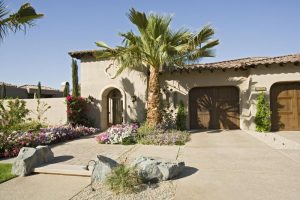 If you're a fan of HGTV, you've probably seen the massive impact a well-landscaped yard can have on a home's overall aesthetic. A simple paint job, a new door, and some well-placed sconces can be the best invitation your home has ever given.
If you're looking to sell your home – it's worth considering taking steps towards increasing the home's curb appeal. And if you are concerned about putting more money into your home just to sell it, don't be. Home improvements don't always have to be exhausting, time-consuming, or drain your bank account. There are plenty of inexpensive, small improvements you can do to enhance the home's curb appeal and increase the likelihood of a sale.
When deciding which upgrades to make, consider what your house currently looks like and which improvements will give it that nice, finished look that will attract buyers.
Here are six simple ways you can boost your home's curb appeal:
Paint your front door, trim, or shutters
 Perhaps the biggest impact you can make to your home, without changing any features is to paint the exterior. A fresh and bold color can make your home stand out, especially if paired well with a complementary shade for your shutters or trim.
Upgrade your mailbox
Whether your mailbox is a stand-alone in your front yard or a wall-hanging one by your front door, this small feature can make your home appear more inviting. You can find new mailboxes starting at around $20, and the installation may take just a few minutes.
Enhance your green space 
No matter your landscape style – the key word you have to remember is style. Ensuring your front yard looks the part will entice more potential buyers to seek out a tour. While you can certainly change the entire look – you can also make a big impact by simply trimming any overgrown plants, adding some stone or mulch to flower bed areas, and even planting a new hedge.
Replace gutters and downspouts
Old gutter systems may have peeling paint, rust spots, and other problems that give off a sense of neglect. Replace your home's old systems with newer ones. Looking to make a big impact? Look towards copper gutters – while they may be a bit pricier than the alternative, they can increase the curb appeal immensely.
Replace your house numbers
If your house numbers are hard to see or outdated, it may be time to replace them. Consider the style of your home, whether it is traditional or modern, and give your house a simple upgrade by adding new house numbers in a corresponding font and material.
Pressure wash
Pressure washing the exterior of your home, not to mention your walkway and front porch of your home is a fast and easy way to enhance your home's curb appeal. Buyers are more inclined to consider a home if it looks fresh, clean and well maintained. If you don't own a pressure washer, you can rent one for the day.
If you are looking for more tips on how to increase the curb appeal of your home and attract a new buyer, give us a call today. We can make recommendations that are specific to your home, allowing you to upgrade your home without breaking your budget.