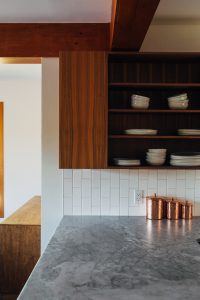 A wish list helps you focus your search and keeps you from wasting time. As much focus as your wish list gives you, it's also likely impossible to check off everything that's on the list. You want to be a little flexible, but there are some things you'll want to dig your heels in on. Here are some things you should never compromise on when looking for a home.
Getting a Fixer-Upper
It's happened before to our clients and it will happen again: going into a search looking for a home with zero projects and falling in love with a fixer-upper.
Now, there is nothing necessarily wrong with it, but if you don't have experience with fixer-uppers, it's something to be wary of. We always recommend for our clients to ask themselves if they are up for living in a half-finished home. Fixer-uppers often have cost-overruns over the long-term and can take an emotional toll on everyone involved. If you go into a search thinking you want a move-in ready home, it's (usually) a good idea to stick to that plan.
Going over your budget
The most common compromise that needs to be taken into account is your budget and the specifications you're looking for in a home: if you can be strict on one and a little flexible on the other, your search can go more quickly. If you have a hard budget and a specific set of needs for your home, the search can take a little longer.
The floor plan
Compromising on the layout of the house can be a huge mistake. If the house doesn't have the number of rooms you need or the flow from room to room you were looking for, you should likely go ahead and cross it off of your list. Floor plans can make or break a home's livability and determine your happiness there.
Now, there is always the possibility to knock out some walls and turn it into the open floor plan you're looking for, but we encourage our clients to bring along an architect or a contractor if they are serious about moving forward, to make sure it's feasible with your budget.
The neighborhood
In the end, the location is the most important compromise to avoid. Some things can be changed, but the location is set.
In the end, listen to your heart about where you want to spend your life. We've had many clients come back to us a few years after buying a home because they decided they were tired of commuting or they really want that big yard.
If you're looking for your dream house, let us help. At Drew Kern Real Estate, we are experts in the South Florida market and can help you evaluate your potential purchase. Give us a call at 305-329-7744 and come meet us.