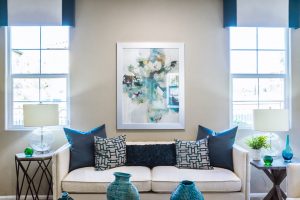 Whether you're considering selling your home in the near future or are looking to make small upgrades that you can enjoy yourself now, taking steps to meaningfully increase the value of your home is something many homeowners look to do. The question often is whether the effort is worth the payoff.
Starting small will give you the opportunity to evaluate your home and your goals from a fresh perspective. Here are some easy places to start if you're looking to boost your home's value.
Start from the outside in
Everyone knows the power curb appeal can hold in luring potential buyers. It also can go a long ways in boosting your home's value. Make a good first impression by ensuring your landscaping is attractive and well-maintained, your trees and bushes are pruned, and your home's exterior is fresh and inviting.
Will beautiful landscaping increase the value of your home? Unlikely. But poorly maintained landscaping will slow down the sales process and induce fewer bids.
Brighten spaces
Adding additional square footage to your home can be expensive and may not bring the desired returns. Instead, you can take simpler steps to visually increase the size of your home by making each room in your house feelbigger. You can do this by brightening your space, letting in more light, adding a large mirror, decluttering your home, and optimizing storage solutions.
Will a brighter, cleaner house increase your property value? Maybe! It also might make people more interested in offering a contract.
Focus on efficiencies
Taking steps to improve energy efficiencies can continue to pay off down the road. Focus on lighting and energy-efficient fixtures or appliances, and if you're looking to make a bigger impact, evaluate your windows and insulation. In South Florida, adding hurricane protection features like impact glass may help you save costs on homeowners insurance as well.
Right now, most every buyer wants impact windows. Not only will you get a wind mitigation discount on your home insurance between now and when you sell, your home will get a lot more attention from buyers.
Modernize paint and accessories
Freshen your home with an updated coat of paint and modernize your aesthetic with new accessories or trendy features. If you are close to selling, keep your colors neutral and find decorating inspiration on TV, online, or in books and magazines.
Not every home needs the fresh paint, or necessarily any updates. It really is a case-by-case basis for what needs to get done (and it varies not just by home but by neighborhood too), which is why we always encourage homeowners to reach out to a Realtor at least six months before they are ready to list to go build their listing strategy and go over what work will help the home sell and what they can afford to not do.
If you have questions about home remodeling projects and how they may affect a future sale, give me a call at 305-329-7744 to discuss your project and goals.