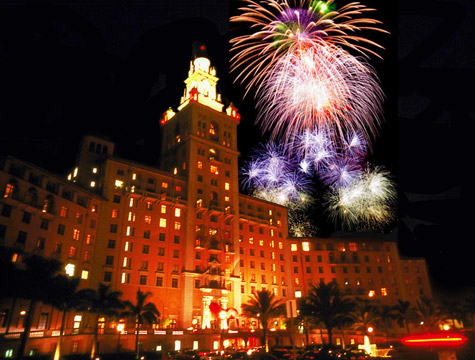 The 4th of July Fireworks are almost here! As an update to my recent post on the fireworks at the Biltmore Hotel, (find original post here), 
I wanted to make sure everyone has all the information available about the event.
Parking:
Complimentary shuttle service begins at 5:00 P.M. on July 4th. The shuttle locations are listed below.
              -385 Andalusia Avenue, Garage 4
              -Coral Gables Youth Center- 405 University Drive
              -The University of Miami- Ponce Garage
              -The BankUnited Center surface Lot on Ponce de Leon
What You Can (and probably should) Bring:
              -Chairs
              -Picnic Blankets
              -Refreshments (NO glass containers)
              -Packed snacks (Please leave the grills at home)
              -A smile and patriotic attitude!
Things You Should Leave at Home:
               -Fireworks (this includes sparklers, folks) Sorry!
               -Tents
               -Glass containers
               -Pets
               -Grills
               -Smoking is not permitted
               -And, although we all know this, we have to mention, no weapons
Have a very happy 4th, and God Bless America!