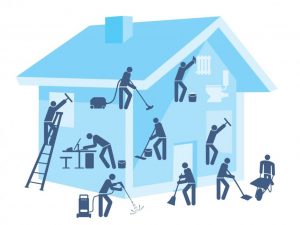 Fall is here. The weather is starting to cool off, and the days are getting shorter.  Pumpkins line your porch, and the Halloween decorations are up. While fall decorations add some festiveness to your home, the season is also the perfect time to tackle some home-improvement projects.
While homeowners in South Florida aren't faced with the long list of chores to winterize their homes like people in other parts of the country, there are still a few DIY projects that should be performed as the season changes. And, getting on a schedule of taking care of these things each fall will keep your home in tip-top shape.
Here are five DIY projects that will get your home ready for fall (or, you can hire a professional to do them for you):
Exterior Painting
Because it's still pretty warm outside, but not super hot, fall is a great time to check on your home's exterior paint and make some touch ups or completely repaint. This can also prolong the life of fascia and soffits.
Power Washing
As we shift to the 'dry season' with Fall, the changing weather is a good time for power washing your home's exterior and windows. Patios, pool decks and driveways can benefit from a good pressure cleaning as well. Not only does this give your home a fresh look, it also helps prevent mold and mildew growth.
Weatherproof Windows and Doors
Many people aren't too concerned about this as their a/c bills go down, but now is a great time to check your seals.
A good way to test for drafts is to close a door or window on a sheet of paper. If the paper slides out easily, some weather stripping or caulking may be needed to seal the window or door.
Clean Carpets
Take the time each fall to clean your carpets. Hiring professionals may be an efficient way to take on this project. The cooler temperatures, with less of a chance for rain, will allow you to open your windows to speed up the drying process.
Do Some Yard-work
If you're like most people, you avoid doing any yard-work from May through September. Now is a great time to trim everything back and ensure your yard will look perfect through the winter.
A change in season is a good time to freshen up your home. But if doing it yourself isn't how you want to spend your weekends, I would be more than happy to introduce you to a few professionals that will be more than happy to help.