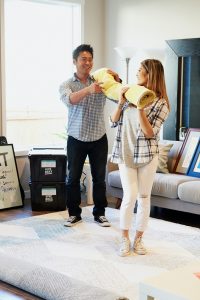 Congratulations! You're a new homeowner! You've made it through a stressful process filled with decisions, paperwork, and emotional ups and downs. You can finally put your feet up and relax in the comfort of your new space, but before you get too comfortable in your chair, make sure to take care of these important steps, too:
1. Change your address and set up your utilities and services – Contact the postal service to change your address. It's easy to do online via the USPS website. You'll also want to get in touch with your utility providers to ensure that you have electricity, air, and other utility services in order to fully function in your new home. This may also include setting up any internet or cable services you choose to have.
2. Keep an inventory as you unpack – A home inventory is a useful tool to keep on record, especially in the event that you experience damage to your property. With hurricanes presenting an annual threat as well as other potential threats all year round, it's a good idea to have a spreadsheet of all your items and their condition. Photos and videos are an important part of the home inventory too.
3. Change the locks – While you received the keys after closing, it's impossible to know how many other key copies may be out there. To feel safe in their new home, many home owners choose to change the locks on their property after moving in.
4. Introduce yourself to your new neighbors – Don't wait for them to knock on your door, go out and introduce yourself to those in your community. If you feel timid at first, bring a batch of cookies or other small gesture to break the ice. Building community is a great way to feel part of your new neighborhood.
5. Clear out those boxes and add a touch of new – Some people rush to unpack as quickly as they can whereas others prefer to pace themselves while they acclimate to their new surroundings. Whatever your preference, as you work through your mountain of boxes, add a touch of new here and there to help you celebrate your new home. Perhaps something like a new welcome mat or a few houseplants here and there will be just what you need to celebrate your accomplishment.
At Drew Kern Real Estate, we get to experience the accomplishment of buying new homes with people just like you every day. If you're looking to make your next move or
have questions about what to expect when buying a home in South Florida, don't hesitate to get in touch.