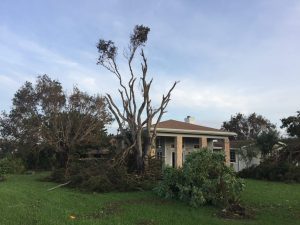 Whether you've lived through Hurricane Andrew or are new to the area, hurricane season is a big deal in Miami. While every year we know it's coming, it's impossible to know just how severe the storms will be or if we'll get one at all. Officially, hurricane season runs from June 1 through November 30, so the time to prepare is now. As you make plans to get your home in shape, focus first on securing these five areas:
Windows and doors– If you don't have hurricane shutters or impact windows, now's the time to get serious about it. And if budget is a constraint, there are alternative options like YGrene financing that make it possible to install impact windows and spread the cost over time (as a bonus: impact windows will be a great value when you're ready to sell your home).
Roof – It's a good idea to have a roofer come a do a spot check every so often, and before hurricane season is a great time (if you're having trouble finding a good roofer, happy to make an introduction – just contact us). Make sure you don't have any loose tiles as well as make sure your roof is strapped correctly.
Attached structures– If you have attached structures like carports, porches, decks, canopies or sheds, make sure they are equally tended to and secure. In the event of a storm make sure your outdoor furniture is put away. You don't want anything left outside. Even children's toys could become a storm projectile in the wind.
Stock Up on Water and Batteries– The moment there's a named storm in the Atlantic, no one will panic. But when we're five days out and the cone is centered on Miami, the batteries and bottled water will magically disappear from every store. Getting a supply now won't hurt, and you will be immensely happy when everyone else is scrambling.
Landscaping– As we enter hurricane season (aka growing season), it's a great time to trim trees and hedges. Again, once there's a storm that has a chance of making landfall in Miami, you won't be able to find anyone to cut down your coconuts so now is the time to get them trimmed. Cut back your trees to make sure no falling branches would damage your structures.
With storm season upon us, it's also wise to review your insurance coverage and take an inventory of your home and possessions in the event of a major loss. Taking the time to prepare your home now can save you a lot of headache and hassle down the road.