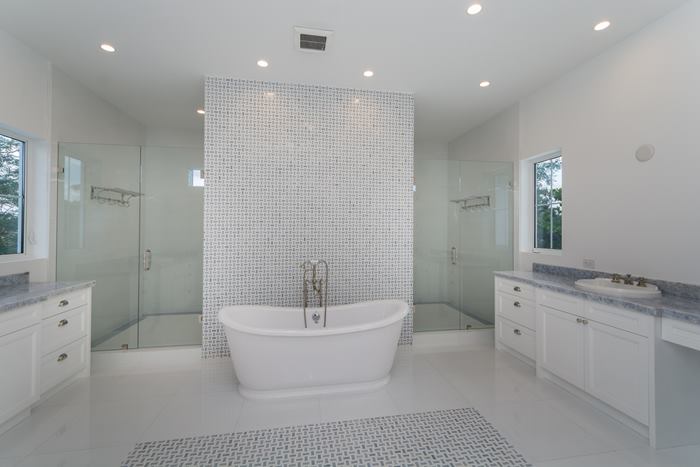 A beautiful, spa-like bathroom is alluring to buyers. You want them to envision themselves enjoying its luxuriousness every day of their lives.
The reality is that most of us don't have perfect bathrooms. So, if you're selling your home, you need to do a little work to get buyers to fall in love with yours. Before you get too concerned: we're not talking about a major remodel. Instead, you can really maximize and capitalize on the space you have.
These staging tips will help you turn your bathroom in to a coveted oasis—and sell your home.
Create a Blank Canvas
Clear off all the countertops and remove all of your everyday toiletries, like soaps, toothbrushes, and other supplies. No one wants to see your personal hygiene products. Keeping them around can be a huge turnoff, and it can make buyers feel awkward, like they're intruding on your space. You want them to feel like they're walking into a hotel or a space that could easily be their own.
Remove any cleaning supplies, wastebaskets, or anything else that suggests housework or maintenance. Focus on making your bathroom feel fresh and luxurious.
Show Off Your Storage
Buyers like storage, and they will open your cabinets and drawers. So, keep any storage spaces only about half full to give the impression that there's extra room.
Perform a Few Minor Upgrades
A few inexpensive bathroom upgrades will go a long way with buyers. Visible upgrades have the most impact, so spend smartly. Some smart upgrades include replacing outdated faucets, adding new light fixtures, repainting, installing stylish towel bars, and swapping out drawer pulls and knobs.
Make It Sparkle
Clean your bathroom, like it's never been cleaned before. Make it look like new. Hire professional cleaners if you have to—just make sure it's immaculate. A sparkling bathroom gives buyers the impression that your home is well cared for and well loved.
Planning to sell your home? Call Drew Kern Real Estate. We can help you get your home ready to list. Give us a call at 305-329-7744 today.