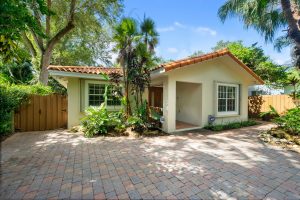 With the city's long-held reputation as one of the world's greatest party cities, many may be skeptical about raising a family in Miami. While the saying is true for many locals, "I live where you vacation", there is a lot more than "bringing your talents to South Beach".
Travel a little out to the suburbs and you will find the most beautiful neighborhoods, home to some of the best public and private schools in the country. And don't worry, there are plenty of kid-friendly attractions to keep your little ones entertained. Here are the top Miami neighborhoods for raising a family.
Pinecrest
Pinecrest is well-known for its highly-ranked public and private schools, beautiful real estate and impeccably clean neighborhoods. From Pinecrest Elementary and Palmetto Middle to Gulliver, many young parents flock to the zipcode to give their children the best education.
And here they find their tropical paradise in spectacular, modest-sized homes or elusive mansions surrounded by lush trees. Lay out a blanket and enjoy a picnic at Pinecrest Gardens or go to bat for your kids while watching their little league baseball game (just don't get too crazy). The neighbors here are friendly and invite you to participate in an array of community activities, from farmers markets to jazz festivals and more.
Palmetto Bay
Located below Pinecrest, you will find Palmetto Bay- an excellent area with plenty of parks, shops and restaurants for locals to enjoy. There is a great sense of connectedness within the community, nicknamed the "Village of Parks", with many events and activities for residents to partake in. You can find anything from movie nights and gardening workshops to annual events like Tennis Play Day and a back to school carnival.
There are also plenty of summer camp activities provided by the Miami Youth Symphony at Deering Estate, a 444-acre historic site located in the Cutler neighborhood of Palmetto Bay. Top-rated public and private schools include Coral Reef Elementary, Palmetto Middle School and Westminster Christian School. Thinking of making the move? Palmetto Bay has a mixture of inland and waterfront condos, single-family homes and luxurious estate homes. Take a look at our featured listings.
Coral Gables
From the majestic Old Oak trees that line the streets to the ivy-covered Spanish architecture that is rich in history, Coral Gables is dubbed the "City Beautiful" with good reason. Yet, there is so much more than meets the eye. Home to many parks, golf courses and waterways, the Gables is the perfect place for families who love the outdoors.
Many move to this peaceful community to get away from the hustle and bustle of the city. Parents can get their kids to bed early and wake up to a fun-filled day of biking, tennis, boating and kiting. Some of the best family-friendly attractions include Venetian Pool and Matheson Hammock Park.
Coral Gables is also one of the safest communities in Miami and 44 percent safer than other cities in the U.S. There is a mix of private and public schools in the area to choose from, with student scoring 7 percent higher in tests than the national average. Not to mention, the Gables is home to the University of Miami where it takes its reign as one of the top research universities in the country.
Coconut Grove
Located east of Coral Gables, you will find yet another popular Miami neighborhood for families- the seaside village we know as Coconut Grove. Much like the City Beautiful, the area is filled with tall lush foliage and plenty of parks. Spend a day biking through the city and you just might come across a Peacock!
Not only is Coconut Grove bike-friendly, but very walkable. It is also one of the safest neighborhoods in Miami with 24/7 patrol watch. Stroll down CocoWalk to find a movie theatre, health club and an eclectic selection of shops and restaurants.
Parents can take their children to explore Vizcaya Museum and Garden and its extensive Italian Renaissance gardens and beautiful views of Biscayne Bay. There is lots of high-end real estate in the Grove, including luxurious single family homes, sprawling historic estates and waterfront condos!
South Miami
South Miami is brimming with single-family homes, from smaller and more charming homes to the most grand and luxurious estates landscaped with a galore of mango and avocado trees- a fruit lover's dream! The area attracts many families with younger children, primarily due to its affordable real estate and A-rated public schools, such as Sunset Elementary.
Centrally located, residents have seamless access to the most popular neighborhoods, including the Gables and Coconut Grove. However, there is plenty to do in the City of South Miami, including The Shops at Sunset Place.
Interested in exploring real estate in these Miami communities? Drew Kern has over 20 years of knowledge and expertise to find you the right home and negotiate the best price. Contact him today!