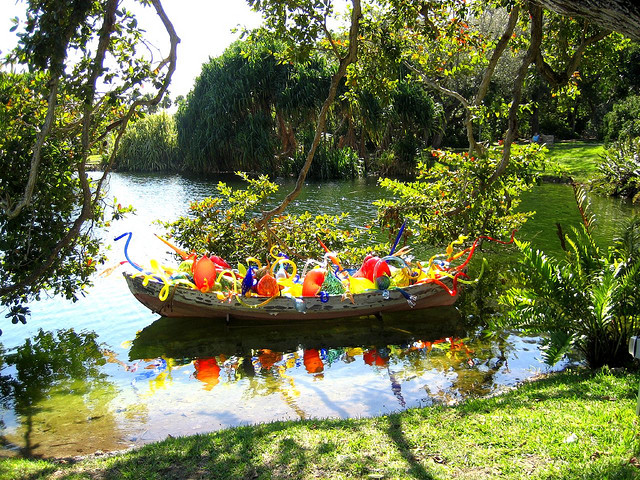 Fairchild Tropical Botanical Garden is often looked at by locals as a place to send houseguests to get them out of your hair for a few hours. While this is true, it's certainly worth a visit as well. Located at 10901 Old Cutler Road in the Gables, it is a fantastic botanical garden that is internationally recognized by some of the leading horticulturists in the world. It's also a great source of inspiration for anyone thinking about redoing their yard, as well as a pleasant place to take a walk (and let your kids chase butterflies around for a bit).
And while Fairchild is worth stopping by and exploring during any of the cooler months in Miami, there is currently a little extra incentive: through May 31st, Fairchild is again hosting a unique art installation by Dale Chihuly across the garden's 83 acres.
What Makes Chiluly Worth the Trip
In case you're not in the know, Chihuly is an artist who creates iconic, intricate large sculptures out of glass. He has installations the world over and this year's exhibit at Fairchild is one of his biggest yet.
You can go see the sculptures during regular hours, but what makes this so special is seeing them lit up at night. On Thursdays and Sundays the garden is open from 6 to 9 pm.
The Details:
Where: Fairchild Botanical Gardens
When: Thursdays and Sundays through May, from 6 pm to 9 pm
Why: A unique art exhibit