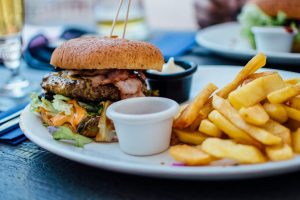 Social distancing at home does not have to mean distancing yourself from great food. And fortunately in Coral Gables, we've got plenty of top-notch restaurants offering you the best-of-the-best when it comes to take-out options. With seamless ordering systems and slick pick-up options, you'll be on your way to adding take-out to your meal rotation even more frequently.
Threefold Café – Not just for breakfast, Threefold Café serves up fan-favorites like monkey bread, savory smashed avocado, coffee and eggs as well as ready-to-cook family meals, groceries, and all the deliciousness you could ask for.
Bulla Gastrobar – Enjoy the flavors of Spain from the comfort of your home when you order from Bulla. Check out their "To-Go" menus for specials on Bulla favorites, alcohol specials, and kids' food.
Caja Caliente – Cuban tacos done right with everything from chicken and steak to mahi mahi and even gator. You can also enjoy bowls, empanadas, and a mouth-watering brunch menu on the weekend.
Hillstone – Hillstone has created a take-home program that includes an abbreviated selection of menu favorites they think go best at home. To enhance your in-home dining experience, they encourage you to re-plate your meals on your own dishes (though their take-out containers are all dishwasher safe, BPA free, and recyclable/reusable).
Pincho – Craving a burger? Look no further than Pincho. Serving up its namesake pinchos (aka kebabs), burgers, salads, and more, there's something for the whole family on this menu. Our mouths are watering just thinking about it.
If you're craving something new to eat and a fun reason to reconnect with your family over food, then give one of these take-out options a try. Have another favorite spot to dine? Let us know your recommendations!