Pinecrest is a great neighborhood famous for its oversized lots, great schools and its tree-lined streets. And the Village of Pinecrest wouldn't be what it is today if it weren't for Pinecrest Gardens.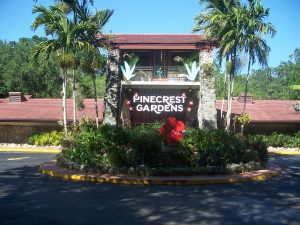 The crown jewel of Pinecrest's amazing park system, the Gardens started life back in 1936 as Parrot Jungle. Back then it was little more than a nature trail through a natural Hammock where Franz Scherr's birds could 'fly free.'
The 20 acre park at the corner of Red Road and Killian Drive has changed a lot over the last 79 years. It remained the home of Parrot Jungle until 2003 when they moved to Watson Island, just after the Village of Pinecrest purchased the property with the intention of redeveloping it as Pinecrest Gardens.
Today, the Gardens boast a children's playground, a full-fledged botanical garden, butterfly exhibit, swan lake, a petting zoo, an amphitheater and the famous Splash N'Play as well as many monthly events, making the Gardens a true center of Pinecrest.
A few events to look out for:
The Jazz Series has seven events booked so far for 2015 that take place on Saturday evenings at the amphitheater.
Orchestra Miami is the orchestra in residence at the Gardens, hosting regular concerts.
The Horticulture Workshop is a monthly program that is a great excuse for green thumbs to get out and learn how to make their yard look its best. Some of the topics they'll be covering this year include building a habitat for butterflies, how to create your own herb garden, hedge pruning tips, how to take care of orchids, and how to reduce your water bill.
The Green Market is one of Miami-Dade counties best Farmer's markets and is open every Sunday from 9 am to 2 pm.
Family Movie Nights are the perfect excuse to get the whole family out of the house on a Friday night (just don't forget to bring your flashlights).
Find out what's happening this month at Pinecrest Gardens here.