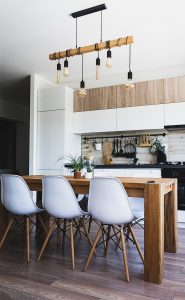 It's a New Year and that means a new look at what Florida home buyers have their eyes most keenly attentive to in 2020. A big theme continues to revolve around energy efficiencies and improving a home's sustainability, but additional features designed to make life and organization easier are also popping up on home buyers' wish lists. Let's take a look at some of the most common features Florida home buyers are looking for in the coming year.
Impact windows and doors – Not only are these hurricane-resistant windows and doors practical from a storm-preparation perspective, they're also aesthetically pleasing and incredibly efficient at controlling the indoor temperature while still letting in natural light. Even better, they can help homeowners save on their insurance premiums. All wins from a buyer's point of view.
Conveniently located laundry rooms – Prospective home buyers are shopping for convenience and organization. Laundry rooms that are located in the garage or anywhere that requires lugging a heavy basket around the house do not fit the bill. Having a separate room just for laundry is also appealing because it offers an out-of-sight space to sort, fold, or iron clothes before it gets put away.
Energy-efficient appliances and systems – Energy Star-rated products and features like programmable thermostats that allow homeowners to save money and improve the internal comfort of their homes are practical solutions to make their lives easier and budgets a bit fuller.
Storage solutions – Improving organization whether in the garage, kitchen, or bedrooms help homeowners clear the clutter and maintain their sanity. This may include a walk-in pantry in the kitchen or additional shelfing or cabinetry in the garage.
In-kitchen dining – The kitchen is always a place where the family congregates, and for families with young children, being able to all gather in one space while parents tend the kitchen is especially appealing.
What home features are you most interested in as a homeowner, or are you new to your house-hunting journey? Drop us a line to let us know!