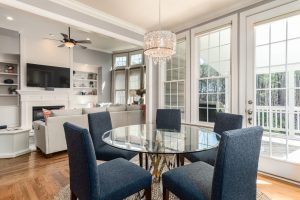 Buying a home is one of the biggest purchases we will ever make. While it's wise to come into the search process with an open-mind, it's also important to bring with you a healthy dose of level-headedness because knowing when to trust your gut can be just as important as other "hard" factors when it comes to making a home decision.
Fortunately, there are other clues to help guide you toward (and steer you away from) your perfect home, and many of those initial clues can be found by taking a closer look at the real estate listing. For many of us, we begin our search online and then narrow down a selection of homes we'd like to tour in person. There can be nothing more frustrating to a home buyer than picking a home you like online, take time off of work to go see it, drive out of your way,  only to be greatly disappointed when you see it in person. Here are some tips for knowing how to read a listing to help get you closer to the right match right from the start.
What to look for in a real estate listing
Photos – Pictures are worth a thousand words, and in real estate, they can be worth thousands of dollars. More than anything else, home photos will drive clicks and interest in a property. As you evaluate photos, however, understand how things like camera angle may distort a room's size for better or worse. Also be sure to pay attention to what's not being photographed and why that might be the case. It's better to go into a showing cautiously optimistic rather than feel like you've been deceived by what you saw in photos online. Conversely, don't necessarily let poor photos scare you away. You would be surprised how many great homes we've found for our clients that have sat on the market for way too long simply because the pictures online were poorly lit and out of focus. If other details in the listing make it seem like it could be a good fit, it may be worth checking out anyways.
Descriptions – After reading dozens and dozens of home listings, you might feel like you know just what's coming next, but things like "newly renovated" and "chef's kitchen" are relative. As you read the descriptions, pay attention to the features that matter most to you and make sure they align with what you're seeing in the pictures. If it's the number of bedrooms or the size of the yard, you may be able to overlook other areas that may need potential work. Evaluate things like square footage, indoor and outdoor features, and number of bathrooms, as well as location relative to things that matter most to you (whether that is work, school, or something else).
As with research you do before you buy anything, it's important to learn to read between the lines. Home listings can be notoriously tricky, especially if you're new to an area. Give us a call at 305-329-7744 for help with deciphering real estate listings and guidance on the best ways to move forward with your search.