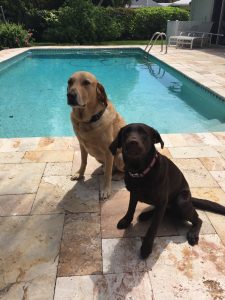 Pets are essential members of the family and make any home feel, well, homey. But, trying to sell a home with a pet around can be headache and definitely takes a few extra steps when staging and showing your home.
Not everyone is an animal lover. Sometimes potential buyers would prefer not to see, smell, or find any evidence that your beloved pet exists. When you're staging your home (where your pets also live) to sell, these tips will help:
Fix Up Your Yard
Back yards are many pets' favorite places. The back yard serves as a personal bathroom for many, and some dogs like to dig holes. As you're preparing your home for sale, clean up any poop or clutter, fill in holes, and sprinkle grass seed in your yard.
Buyers look for green, pristine yards, so you may need to do a little extra yard work. And, while your home is on the market, you might need to train your dog to do his business in a specific spot.
Get Rid of Odors
Pets have a tendency to have an odor, and a home that smells less than fresh can kill deals. This can be particularly off-putting for non-pet owners. Before showing your home, do your absolute best to get rid of any pet odors.
It's a good idea to have your carpets, rugs, and floors professionally cleaned before listing. Wash your pet's bed regularly (and don't forget to take them to the groomers!). Also, keep litter boxes, cages, crates, and fishbowls spotless to eliminate odors.
Clean Up Pet Hair
Pet hair and dander covering floors and furniture makes any home look messy, but it can also trigger allergies. You definitely don't want any potential buyers getting sick after setting foot in your home. Always vacuum regularly, and bathe and brush pets often to keep hair from flying around the house.
Hide Evidence of Your Pet
Toys, crates, litter boxes, water and food bowls, collars, leashes, and cages are just some of the pet-related items that likely fill your house. Get rid of all of this when staging your home, because it can look like clutter to others.
Send Pets Away
Whenever possible, send your pets to visit a friend or family member, or to day care for the day when you know your house will be shown. Buyers can look around without distraction. Some people might even be frightened of your pet. Or, confine them to an area of the house and make sure your realtor knows where they are.
Pets are members of the family and will likely experience many emotions during the process of selling your home. Strangers in the constantly in the house and things getting out of place may cause them stress. Keep this in mind as you stage your home for potential buyers.
At Drew Kern Real Estate, we're staging experts. We can help you get your home ready for sale—even with your pets hanging around. Give us a call at 305-329-7744.