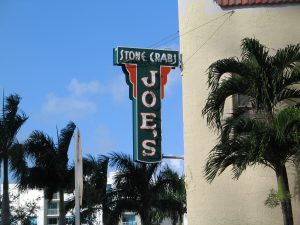 The season comes to a close again at the end of April, and with it, the windows for fresh-picked berries and locally sourced stone crabs. But you still have a few weeks to visit some of Miami's most cherished institutions before the summer heat dials up to extreme. These three outposts are well worth the drive.
Just a short drive to Homestead takes you to the family owned and operated Knaus Berry Farm. As someone who spent 7th & 8th grades at Redlands Jr. High (across the street) and skipped many a class to grab a milk shake and cinnamon roll, it's hard to believe how Knaus has changed from that quaint roadside fruit stand to the celebrated bakery and store featuring cult-level cinnamon rolls, cookies, ice cream and milkshakes, jams and jellies, and all manner of pies—from shoo fly to pecan to guava. As Knaus is open only through mid-April, expect some long lines if you head over on a Saturday or Sunday morning.
Another iconic Miami destination for fresh fruit and treats is Burr's Berry Farm, open from December to May. This popular souped-up farm stand, with an adjoining garden and pick-your-own fields, sells strawberry everything (berries, chocolate-dipped berries, strawberry yogurt, strawberry cookies, strawberry shortcake) along with in-season produce, homemade jams, jellies, pickles and salsa. Burr's is known for its thick and creamy milkshakes, which come in—naturally—strawberry but also more experimental flavors like Key lime pie and birthday cake.
Legendary Miami Beach seafood shack Joe's Stone Crab is in its 102nd year this season. EWM treated me along with our Chainman's club, Diamond Level, top producers to lunch at Joe's a few weeks ago, as they do every year and it was as good as ever. The evergreen restaurant, located on Washington Avenue, lures locals, tourists, and celebrities with its infamous stone crabs, along with fresh lobster, shrimp, clams, and fish and steaks, salads, soups and sides. If you go on a weekend, it's sure to be packed, and Joe's doesn't accept reservations, but the service is fast, friendly and efficient. (if you've been you know why the wait is worth it.) Stone crabs are only in season from mid-October through May, so don't wait to try this fun spot. And make sure to order a slice of Joe's Famous Key Lime Pie for dessert—it's the very essence of  iconic Miami Beach in all its high-season glory.