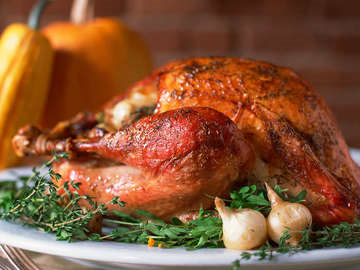 I've decided to venture into new territory today and dive into some really great food. Since Thanksgiving is just around the corner, favorite recipes and meal prep are a hot topic in my office at the moment. My team and I are huge fans of this holiday (and of eating), so we wanted to share with you some of our go-to Thanksgiving recipes. Seems odd to be getting recipes from a real estate blog, right? Trust us, you'll thank yourself for giving these a try. And after you've had your fill of dirty mash and pecan pie, contact me to discuss current listings and explore South Florida's hottest neighborhoods.
Lauren's Unbelievable Brie
Serves 8
Ingredients:
1 sheet frozen puff pastry
½ tsp. ground cinnamon
1 Tbs. butter
1 small wheel of Brie (8 oz.)
½ cup chopped walnuts
¼ cup brown sugar
¾ cup dark corn syrup
1 egg, beaten
Directions:
Preheat oven to 375°. Defrost puff pastry for approx. 15-20 minutes and unfold. Melt butter in a saucepan over medium heat. Sauté walnuts in butter until golden brown, approx. 5 minutes. Stir in cinnamon, coating nuts well. Place mixture on top of wheel of Brie. Sprinkle brown sugar over the mixture. Carefully place pastry sheet over wheel of Brie (make sure Brie is centered). Gently pick Brie up with pastry hanging over edge and fold pastry under Brie. Trim excess pastry with scissors so Brie lies flat and seal all edges to prevent leakage. Brush beaten egg over top and sides and place wrapped Brie on an ungreased cookie sheet. Bake for 20 minutes until pastry is golden brown. Serve with your favorite crackers.
Drew's Deep-Fried Turkey
Serves 10-12
Ingredients:
1-15lb. fresh turkey, neck and giblets removed
1 stick salted butter
½ tsp. Cayenne pepper (or to taste)
½ tsp. garlic powder
Peanut oil for frying (about 4 gallons)
It's no secret—guys like to fry stuff, especially with their cocktail of choice in hand. This is actually my favorite way to prepare a turkey for Thanksgiving. It's fast and fuss-free and allows me to enjoy the day with my family. Sometimes I even fry a couple turkeys to make sure that we have enough to send the entire family home with leftovers.
Everyone knows how to Google how to deep fry a turkey, so I won't bore you with those steps! My secret to give the turkey an extra kick is melted Cayenne butter. Just melt the stick of salted butter in a saucepan and stir in the Cayenne pepper and garlic powder. About an hour prior to frying, inject the turkey in various places with the melted Cayenne butter so the flavor really gets in there. Make sure you dry off the bird before it hits the hot oil!
Side note: Here's a trick so that you can reuse some of that costly peanut oil. After it cools, use cheesecloth to drain the oil from the turkey fryer and refrigerate. It should keep for a couple weeks and you can then re-use the oil for a fish-fry!
Beth's Roasted Garlic Dirty Mash
Serves 10
Ingredients:
5lb. bag red potatoes
1 tsp. salt
1 head of garlic
½-1 cup heavy whipping cream
Olive oil
1 stick of butter
Directions:
Preheat oven to 400°. Cut the top of the bulb of garlic off, drizzle with olive oil and wrap in foil. Bake at 400° for 30 minutes. Remove and cool. Slice potatoes, then quarter and place in stock pot. Fill pot with water, add the salt and bring to a boil. Boil for approx. 10 minutes or until cooked through. Drain and place in mixing bowl. Remove roasted garlic from bulb and add to potatoes. Add heavy whipping cream and beat until smooth and consistency of choice. Top with butter and serve.
Rusalka's Simple Fall Salad
Serves 6
Ingredients:
For the vinaigrette:
¼ cup extra virgin olive oil
2 Tbs. champagne vinegar
1 tsp. Dijon mustard
1 tsp. honey
Salt, pepper
For the salad:
About 6 cups loosely packed baby greens
4 firm but ripe pears, cored and thinly sliced
12 figs, halved lengthwise
½ cup coarsely chopped toasted walnuts
¼-½ cup crumbled feta
Directions:
To make the vinaigrette, in a small bowl whisk together the olive oil, vinegar, mustard, honey and salt and pepper to taste. In a large bowl, combine the lettuce, pears, figs and walnuts. Pour the vinaigrette over the salad and toss gently to combine. Sprinkle with the feta, season with salt and pepper to taste and serve immediately.
Catherine's Deliciously Decadent Pecan Pie
Serves 8
Ingredients:
1½ cups pecan pieces
2 Tbs. melted butter
3 large eggs, beaten
2 tsp. vanilla extract
1 cup sugar
½ tsp. salt
¾ cup dark corn syrup
1 (9-inch) deep-dish frozen unbaked pie shell
Directions:
Spread pecans in a single layer on a baking sheet. Bake at 350° for 5 minutes, then flip them and bake for another 5 minutes, or until toasted. Stir together eggs and next 5 ingredients; stir in pecans and chocolate chips. Pour filling into pie shell. Bake at 350° for 47 minutes or until set, shielding pie with aluminum foil after 20 minutes to prevent excess browning. Serve warm or cold.