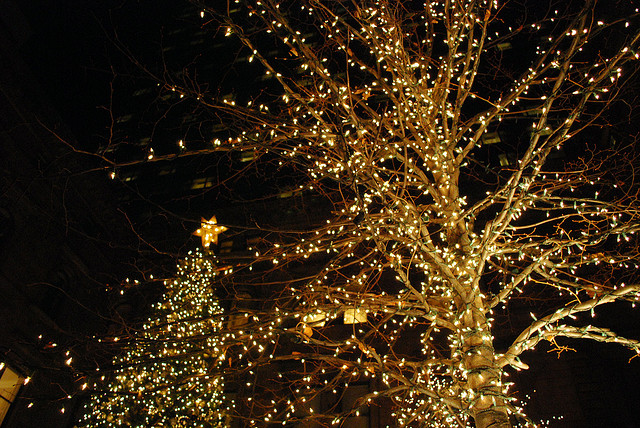 Out-of-town friends always ask me, "How do you get in the holiday spirit in Miami?" Temperatures hover in the low- to mid-80s, locals parade around in their summer best and, yes, some of us continue to enjoy a lazy afternoon or two by the pool well into the "winter" months (if it isn't raining, that is). Life's rough, isn't it?
That being said, I have to say Miami is a magical place over the holidays. And one of the more enjoyable ways to get into the holiday spirit is to explore our neighborhoods and take in the holiday lights on display. Wondering where to go? Here are some festive places in and around the greater Miami area that are sure to please even the Scrooges among us.
If you're in the Coral Gables neighborhood this evening (Friday, December 4), stop by Coral Gables City Hall for its annual tree lighting ceremony at 7pm. Following this ceremony, the Coral Gables Holiday Park will be open to the public from sunrise to 10pm seven days a week until December 23. (To see the lights in all their splendor, though, your best bet is to stop by after sundown.)
Coconut Grove ushers in the holiday season this Saturday, December 5, with its 3rd Annual Christmas Tree Lighting Extravaganza from 2pm to 8pm, with the tree lighting taking place at 6:30pm. The tree will be lit every night until the end of the holiday season. You can't miss it: It's right in front of CocoWalk!
Palmetto Bay is also lighting up this holiday season with its first official Holiday Lighting Ceremony this Saturday, December 5, at 5:45pm right outside Village Hall.
And new this year is Ludlam Lights! On Saturday, December 12, head over to the Ludlam Trail, a partially abandoned Florida East Coast railway right-of-way, for a twilight walk along the illuminated trail.
Featuring more than 60 light installations, Nights of Lights at Pinecrest Gardens presented by the "Live Like Bella" Foundation is a beautiful holiday display that takes place from December 18 until January 2 from 6pm to 9pm.
Check out Zoo Miami's Zoo Lights from December 18 through December 30, from 7pm until 10pm. Animal-shaped lights and thousands of sparkling tree lights will be on display around the zoo. (Note that this attraction is closed December 24 and 25.)
And if you've lived in Miami long enough, you've most definitely heard of Santa's Enchanted Forest, boasting South Florida's largest Christmas tree, millions of dazzling lights and hundreds of themed displays. Plus, there are over 100 carnival rides for adults and kids alike to enjoy. Open now through January 3, from 5pm until midnight.
The greater Miami area is chock full of wonderful neighborhoods. To explore the best of these areas or for updated listings, contact me today.