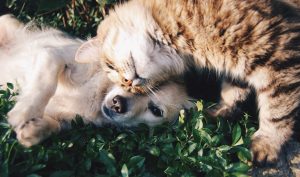 You pets are part of your family, but as much as you love them, potential home buyers might not agree. To ensure you're not scaring away buyers, here are some simple steps you can take to prepare your home for the sale, even if you have pets.
Clean, clean, clean – Deep cleaning is a must, especially when it comes to getting rid of pet stains, odors, and hair. Hire a professional if needed and do what you can to control additional dirt or hair from accumulating once your home is on the market.
Repair any damage caused by your pet – Scratching or claw marks, chew damage, ripped curtains or screens – these are all serious turn-offs that can easily be repaired before listing. This goes for damage both inside and outside your home. Don't forget about taking a good look at your yard, too.
Eliminate all signs of your pet – Help potential buyers envision themselves in your home by depersonalizing the space, which, yep, includes removing all signs of your pet. This may be things like kennels or crates, food and water dishes, pet beds, cat climbers, as well as any pictures of family pets.
Make a game plan for showings – Whether you consider temporarily relocating your pet during the entire selling process or if you just take the pet out during showings, it's a good idea to have a plan in place for how you are going to keep the house clean and pet out of sight during the all-important open houses and showings. Perhaps a neighbor or family member is willing to step in and help or you have flexibility to care for your pet during these times. Regardless, it's much easier and safer to show the home without your pet on site.
While pets are a beloved part of millions of homeowners and their families, when it comes to selling a home, buyers are still wary. Keep your home clean and minimize evidence of your pet to give yourself the best chance of success with your sale.