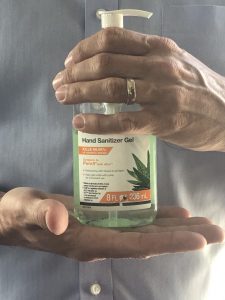 For those on the housing market right now – whether buying or selling – things may feel a little doomsday. The uncertainty around the coronavirus has everyone on edge, and things are changing by the day.
But rest assured, it is not doomsday for the real estate market. In fact, the market is continuing to churn and real estate experts are remaining cautiously optimistic. New listings are being added – albeit at a slower rate, closings are continuing to proceed – even if there are some delays, and we all are taking important health and safety precautions to accommodate a more virtual real estate experience.
Yes, the pandemic is top-of-mind for all of us, and that's why we're dedicating the next several posts to weathering this unusual storm from a real estate perspective. What does the pandemic mean for buyers, sellers, and renters? And what can we expect as a whole for the South Florida real estate market during these next several weeks and months?
Up first – what sellers need to know.
What to Expect When Selling in a Pandemic
First things first, there are several items of good news for homeowners who are selling during this public health crisis:
– There are indeed buyers on the market, and of those buyers, nearly every single one of them is serious about finding their next home. The pandemic is weeding out the casual lookers from those who are on the house-hunt out of necessity. That's good news for sellers.
– Similarly, there is also less competition among sellers, as some homeowners have decided to temporarily take their properties off the market.
– Despite a slow-down, Miami-Dade homes are continuing to hold their mortgage value, which was certainly not the case during the 2008 recession.
– Interest rates have dipped significantly as the Federal Reserve takes on emergency measures in light of the novel coronavirus. Buyers are able to take advantage of financing opportunities.
All that said, the way homeowners go about selling their homes during a pandemic is naturally different. Definitely out of the question are public open houses. Private showings that do occur come equipped with hand sanitizer and disinfectant wipes. Instead of in-person viewings, virtual tours are filling the gap.
If you are selling or have plans to put your home on the market in the near future, consider the ways you can improve the virtual experience you give prospective buyers.
Here are some ideas:
– Improve photography, staging, and lighting. You want your photos to accurately portray your property.
– Talk to your realtor about setting up a virtual tour and/or a livestream.
– Leverage technology to continue moving contracting and other processes along, such as tele- or video-conferencing and e-signing programs.
Conversely, if you are concerned about selling in the midst of the pandemic, consider using this period of lockdown and social distancing to take on some of those lingering home improvement projects. The Miami market is resilient and will bounce back. Why not put your property in an even better position when we all get through this difficult time?
The global public health crisis we're experiencing right now has swept in like a storm and is quickly disrupting every aspect of our lives. Unlike a hurricane, however, people are still finding a way to carry on despite not being able to leave their homes.
Technology is an incredible resource that is allowing us to stay connected and continue to buy and sell homes despite the pandemic we're experiencing.
At Drew Kern Real Estate, we realize this is a difficult time for everyone. We're here to help. If you have questions or concerns about the South Florida real estate market, don't hesitate to get in touch.