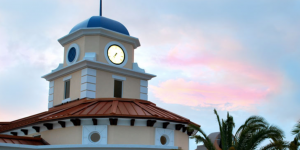 There is nothing better than living right next to the ocean, which is why Miami is such a great place to live.
But from the Beach to Homestead, there are a wide spectrum of options to choose from. Figuring out the perfect neighborhood for you takes looking at the market and seeing what is best for your family. For mine, Palmetto Bay was the best choice.
Why Palmetto Bay?
Just a quick drive down picturesque Old Cutler Road or the turnpike, Palmetto Bay is far enough away from downtown to allow for lush, over-sized lots but not too far away to make the drive unbearable. It's great for families with school-aged children because of the great schools (both public and private) and the overabundance of parks – in fact, Palmetto Bay's nickname is the 'Village of Parks.
There are also other reasons that Palmetto Bay is known for its family-friendly atmosphere. You and the kids can enjoy resident movie nights, the farmer's market, gardening workshops, and even back to school carnivals.
Ready to Move?
My team and I have been working in Palmetto Bay for many years and have extensive experience with the area's real estate market. Although houses in this area are in high demand, we've helped many clients find their dream homes. Palmetto Bay is more affordable than other parts of Miami-Dade County, and its home to a mixture of inland and waterfront cottages, single-family residences, condos, and huge estate mansions. There truly is a home for everyone in Palmetto Bay.
There are currently multiple homes on the market in Palmetto Bay, ranging from $435,000 to $1 million. The average price for the average size home in the area, around 2500 square feet, is about $550,000 however this varies depending on location within the city, lot size and condition of the home. I know the neighborhood very well, as both a resident, and expert selling property here for 21 years.
Of course, if you're looking for something more spacious for your family, there are multiple homes that have bonus rooms, as well. Most of the houses with five bedrooms, four bathrooms, and around 4,000 square feet are priced in the mid $900s.
Palmetto Bay is just one of the hidden gems in Miami. If you're considering making Palmetto Bay your new home, give us a call at 303-329-7744. We would be more than happy help you find the perfect home.