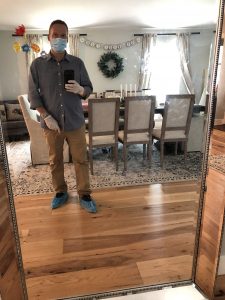 Shopping online for homes is not a new phenomenon in the real estate world, but things certainly have changed in recent months in regards to how people go about finding their next property.
While pre-pandemic online house hunting was typically used as a way to screen potential homes that a buyer would later then tour in person. Now, more and more buyers are relying on virtual showings as one of the most important components of their real estate experience – with some transactions being completed even without a buyer ever stepping foot on the property.
In order to position your home for the best possible sale, creating a strong virtual presence and marketing the property are imperative. Even as social distancing restrictions lift, buyers will have new expectations for what a virtual showing should look like going forward.
Here are a few important tips for preparing your home for a virtual tour or online showing:
Maximize lighting – Good lighting is so important if you want to capture the true feel of a home on camera. Consider things like time of day when making your video recording so you can take advantage of optimal natural light, but also be sure to replace lightbulbs if needed or add lighting to rooms that may require more.
Consider your layout – Review your furniture arrangement to maximize space and create a sense of "home." Additionally, you should also do a few walk-throughs to plot your route and ensure that you have a clear path to without obstructions. You don't want to trip when filming a live tour.
Stage for the sale – Staged homes tend to sell faster than empty homes, so when possible, leave some furniture in the house or consider renting furniture while the home is on the market.
Declutter and clean – Whether it's an online showing or in-person showing, cleaning and decluttering is a must to make the home feel fresh, spacious, and ready to sell. It also helps to depersonalize the home so prospective buyers can picture themselves living in it.
Creating a strong online showcase of your home is an important part of selling your home in today's real estate landscape. Shoppers may feel reluctant to tour homes in person, yet they still want to get a good sense of a home. A well done video showcase can do just that.
If you have questions about buying or selling a home in today's South Florida real estate market, get in touch with us at Drew Kern Real Estate.