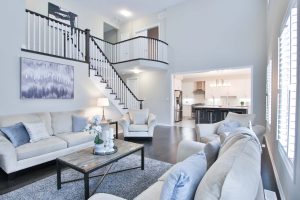 Preparing your home for potential buyers usually requires a little TLC. How much depends on your own personal situation and goals for the sale, but putting in some work upfront can not only help speed up your sale, it can also help you increase the home's value.
While it may feel unnecessary to put so much extra time, effort, and money into a home you will be leaving, a little preparation, especially when it comes to home staging, can go a long ways in making your property more appealing to potential buyers.
But do you need a professional to do it for you?
Let's walk through some of the pros and cons of hiring a professional to stage your home for the sale.
The pros of professionally staging your home
Hiring a professional to prepare your home for the sale frees up your time to focus on other priorities, which may include shopping for your own next home. Buying and selling homes is time-consuming and exhausting. A professional stager can alleviate some of that stress and legwork for you.
Home stagers also come into your home with an objective eye. When you sell a home, you want to depersonalize your space so new buyers can envision themselves settling right in. A stager can take a fresh look at your space and redesign it from an objective point of view.
The cons of professionally staging your home
One of the biggest disadvantages for many sellers is the cost to hire a professional stager. Not only are there expenses related to the staging, there may also be costs associated with renting furnishings and home accents. Real estate transactions are already big investments, and for many homeowners, professional staging a line item that can easily be cut.
The bottom line
Regardless if you choose to hire a professional to stage your home or do it yourself, taking the time and effort to prepare your home for the sale is important in helping speed up the sale and garnering top dollar for the property. Most times, that can simply mean ensuring the landscaping is clean and recently tended to, the house is picked up inside, and the space allows new buyers to envision their lives in the home.
As you consider your options, talk to us at Drew Kern Real Estate. With more than 20 years of experience in the South Florida housing market, we can help you with all of your real estate needs.