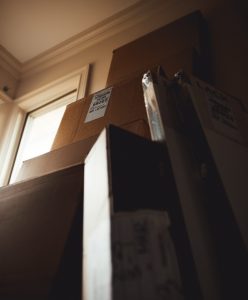 There is continued good news for South Florida home buyers and sellers despite the uncertainty that continues to swirl amid the COVID-19 global pandemic. While many parts of our economy have taken a hit, in the Florida real estate market, we've seen very little slow-down. Home prices are maintaining their values, mortgage rates are at record lows, and buyers and sellers are adapting to new, socially distant ways of buying and selling.
This is good news, indeed. But if you're like others looking to buy and sell during this time of uncharted territory, you will also be faced with the challenge of moving during the pandemic (as if home buying weren't stressful enough, right?). While moving homes is always a challenge, moving while taking additional safety precautions can seem monumental.
How to Stay Safe and Sane While Moving During COVID-19
Get organized – The first step to any move is to take stock of your possessions and determine just what you're up against. Is it a move you can DIY, or is hiring a moving company the only plausible way to get the job done? If possible, do as much as you can on your own, so that even if you hire a moving company, you'll ensure that your most essential items are safe.
Reduce contact – Whether you rent a moving van or a moving company, you'll have to interact with others, but do what you can to take steps to minimize contact. Many moving companies may be able to provide virtual quotes. Some may even offer fully contactless service.
Take health and safety precautions – Keep masks, gloves, sanitizers, disinfectant wipes and other health and safety needs accessible throughout your move and consider having additional supplies on hand for others who may help. A bottle of hand sanitizer by the door and soap and paper towels by the sink will make it easy for everyone to stay safe. And when you unpack, it's also a great time to clean and disinfect items and surfaces.
Lighten your load – When packing up to move, an often forgotten area that tends to accumulate faster than many think is the pantry. Rather than move your canned goods and other non-perishables, consider donating them to a local food shelf. You'll help others and yourself.
Moving is daunting, but consider it the icing on the cake of your brand new home. Before long you'll be settled in and enjoying the home of your dreams. If you have questions about buying or selling a home in today's South Florida real estate market, get in touch with us at Drew Kern Real Estate.