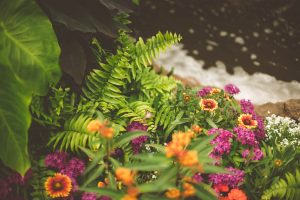 The exterior of our homes is like the face of our property, and what better way to welcome in guests – or potential buyers – than by polishing it up with some easy curb appeal boosters. If you're planning on putting your home on the market soon, or if you just want to spruce up your exterior, here are five easy things you can do to enhance your home's curb appeal in just a short weekend.
Look at landscaping – Keep your yard tidy by trimming bushes and shrubs and taking care of any overgrown (or overlooked) areas. Planting a tree or a few new flowers either in the ground or in a nice flower box or pot can be an easy way to add color and life to your exterior as well.
Focus on the front door – Maybe it's a fresh coat of paint to brighten your door or something as easy as adding decorative molding, new hardware, or accompanying potted flowers to frame the doorway. It doesn't have to require a lot of effort to make your front door even more welcoming and inviting.
Find new fixtures – Updating your exterior light fixtures is a cost-effective way to modernize your exterior while adding instant curb appeal at the same time. Or, if you'd rather not update fixtures, simply add a fresh finish to your existing lights with spray paint.
Freshen up with paint – You don't have to paint your home's entire exterior to give it a facelift. Focus on easy accent areas, like the trim, shutters, or door, for a similar overall boosting effect that takes much less time and effort.
Keep it clean – Powerwash your home's exterior; clean your driveway, sidewalks, and porch; and add some sparkle to your windows by giving them a good cleaning (inside and out).
Keeping your home's exterior looking its best is an important part of drawing in prospective buyers, and these are five good places to start. If you have other questions about the best ways to prepare your home for the South Florida market, give me a call at 305-329-7744.