…. and where will you be celebrating America's 240th Birthday?
Join in the fun~ family~festivities around the Coral Gables & Palmetto Bay/Cutler Bay areas at any of these free events.
The Biltmore Hotel: Center Terrace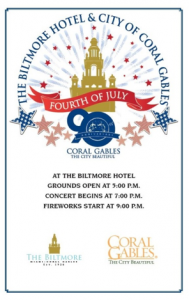 The Biltmore Hotel Fireworks Spectacular is one of the most popular places to be this Independence day with over 10,000 guests expected to attend. Bring a blanket or folding chairs, a picnic basket and grab a front row seat on the beautiful lush, sprawling 18 hole Golf course and enjoy the show.  Refreshments are available for purchase.  All will remember this fireworks display to celebrate "America the beautiful".
The grounds are located at 1200 Anastasia Avenue Coral Gables, Florida
If you're looking to secure a prime spot you'll want to get there soon after it opens at 5pm, or at least  by the start of the live concert at 7pm by The Greater Miami Symphonic Band.  The fireworks show begins promptly at 9 p.m.
The City offers free parking and continuous shuttle service throughout the evening to and from the Biltmore Hotel. Shuttle service begins at 5 p.m. from the following locations. The last shuttle will depart for the fireworks at 8:15 p.m.
• University of Miami – BankUnited Center surface lot 
• Coral Gables Youth Center – 405 University Drive
• Garage 4 – 345 Andalusia Avenue
This is something NEW!  Bike Valet will also be available!   Ride your bike to the Biltmore Hotel and avoid the traffic! The bike valet will be located at 1150 Anastasia Ave., (William H. Kerdyk Biltmore Tennis Center) from 5 p.m. – 11 p.m.
Fireworks (including sparklers), smoking, grills, pets, tents, glass containers and weapons are NOT permitted at the event. 
Palmetto Bay: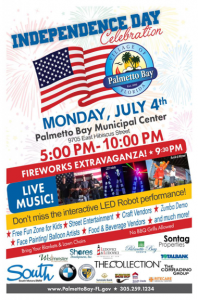 Palmetto Bay's 3rd Annual Independence Day Celebration
Residents, friends & neighbors will gather at the future site of "Downtown Palmetto Bay" to enjoy live music, food vendors, various kids' activities and amazing 22-minute fireworks show, launched from Palmetto Bay Park, at 9:30 pm. Palmetto Bay Municipal Center, 9705 East Hibiscus Street from 5-10pm.
Palmetto Bay/Cutler Bay: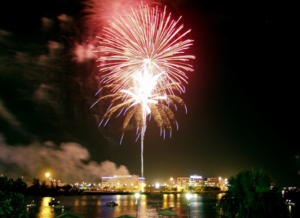 Fireworks light up the Atlantic Ocean at this smaller scale event.  Spend the entire day exploring the park enjoying the bikeways and jogging trails, fishing, & boating.  Park opens at sunrise.  The Black Point Ocean Grill will be open for those who want to share a toast to America.   The marina channel will be closed from 8:30 p.m. to 9:30 p.m. in preparation of the fireworks at 9 p.m,. 24775 SW 87 Avenue.