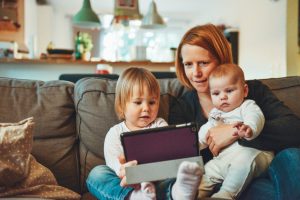 Whether you're buying your first home or you're back on the market again and this time as parents, you've undoubtedly come to the realization that buying and selling a home with kids is tough. Not only is it difficult to even find the time to look for a house, your list of concerns and wishes have likely changed. Things you would have at one time easily overlooked now become deal-breakers for you. As parents you have additional considerations to factor above and beyond school districts, safety and other practicalities of daily life.
If you're a parent looking to buy a home in South Florida, identifying your priorities and keeping a few other important tips in mind will help your process go much more smoothly. Let's start with these helpful reminders:
Carve out time to go it alone– While it's important to involve the entire family in the house-hunting process, it can add stress and pressure to bring them along to each and every showing and tour. Moreover, their added excitement or emotional reactions may cloud your true impression of the property. While it's important everyone is happy with the home, as parents, you should ultimately be making the final decisions.
Consider the now and then– Kids grow quickly, which can make buying the perfect home challenging. While they're young, you want them within arm's reach, which may mean bedrooms right next to each other or a swing set in the backyard. As they grow, they may want more independence and space to call their own. The challenge many parents run into, however, is focusing solely on one or the other. For example, they end up buying homes that are too big right away, or conversely, focus solely on the needs of younger children. While it's difficult to walk the fine line of now and then, evaluate your priorities and be willing to flex as needed throughout the search process.
Find the location that's right for you– It pays to be patient when shopping for a house, especially as parents. We all know that location matters, and it's even truer for parents. School districts will play a role in your chosen location (and be sure to look at elementary schools on up through high school), but so too should things like proximity to parks, dining, and shopping; overall safety ratings; sidewalks; safe spaces to play and more.
Buying a home as a parent requires an added layer of considerations, which can feel overwhelming but not insurmountable. If you're looking for the right home for your family, we're ready to help at Drew Kern Real Estate. Give us a call today at 305-329-7744.