Starter home vs. forever home?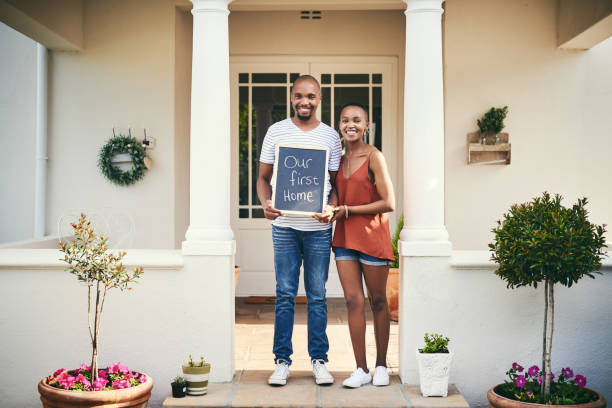 If you're a first-time home buyer you may be stuck in this mystifying gray area. You know you want a home. You know your price range and your ideal locations. But you just don't know if you want to settle for a home that might just be a step in the path toward another home, or if you want to seek out that home that you can call yours for the rest of your life.
There's no right or wrong answer. It's a matter of circumstances, numbers and preferences. It's a matter of where you're at and where you want to be.
Even armed with all the facts and info, it doesn't always make it easier to decide. We want to help you break it down and see past the terms "starter home" or "forever home." Just see a home and factor in your short and long-term goals.
The Starter Home
A starter home is any type of home (condo, townhouse or single-family home) that you, as a first-time buyer, can afford but you will most likely outgrow. The starter home is usually more modest and it might meet your needs, but not necessarily fulfill all of your dreams.
A lot of people purchase a starter home to get into the real estate game at a level they can afford and use the equity they built to purchase a home that is more ideal. There are plenty of people who intend on buying a starter home that actually turns into their forever home. In Miami, starter homes are even more valuable as mortgage payments can tend to be lower than rent payments -giving homeowners way more bang for their buck.
Do you need to start with a starter home?
When weighing out your options, you'll want to account for a series of factors: your budget, the real estate market, long-term goals and your lifestyle.
Budget
It seems like a very simple number-crunching exercise but building your budget can quickly get complicated. You'll need to account for whether your home is move-in ready or a fixer-upper. You need to factor in any potential HOA fees, mortgage insurance, down payment, mortgage rates, property taxes, etc. Taking all of these numbers into consideration can help you build your bottom line and determine what the complete budget of new homeownership actually looks like.
One other thing that typically holds first-time homeowners back from making the switch from renting to owning is the constant thought of projected income changes. You have X dollars now, but what if you waited a year or two? Would you be able to afford a bigger, better home then? But if you waited, how much more rental money would you be giving to a landlord vs. investing in your own space? Nerd Wallet has a great home affordability calculator to help you plan a budget that works for you.
How's the market?
The current status of the market could play into your decision. If it's a hot seller's market with buyers outbidding each other left and right you may want to be more strategic in your buying process and timeline. If the market is cool and you can afford a bigger home, maybe that starter home is looking more like a forever home.
No matter what the market is doing currently and no matter whether this is a starter or forever home, it's always wise to think ahead and look at long-term projections and potential for resale value. With starter homes, many homeowners can afford to put a little more work in the home and up the resale value – not to mention make the house feel more like their own with renovations over time.
Long-term goals and lifestyle factors
What's your 5 year, 10 year, 20 year plan? While no one expects you to predict the future, you can make some educated guesses and goals. Are you going to be starting a family? Do you think you'll be getting a raise or promotion? Is there a chance you might move for work?
When looking at buying your first home, it all boils down to balancing your current needs with your future plans. The idea behind a starter home is that while it may not be the big mansion you always dreamed of, it will propel you towards that dream home and lifestyle. Keep your dreams rooted in reality while also looking toward the future with a perspective on what you can afford and what you need right now.
What is forever, really?
A lot of this debate is rooted in contrived ideas and semantics. The reality is that very few people find their forever home and actually stay there forever. While there are many people who think they're getting a starter home but put so much work and love into it that it becomes their forever home.
Whatever you call it, it's a home. Yes, you need to take an honest look at what you need in a home and break down the budget for what you can afford. Yes, you need to factor in your short and long-term goals. Yes, you need to put a lot of thought into it and couple in your mental and emotional needs as well.
Buying any home is a major decision and you should be confident in that decision. If you're feeling overwhelmed with your prospects, we'd love to sit down with you and talk you through it. Absolutely no obligation and no pressure. We just love seeing people find the right home.
Best of luck out there!