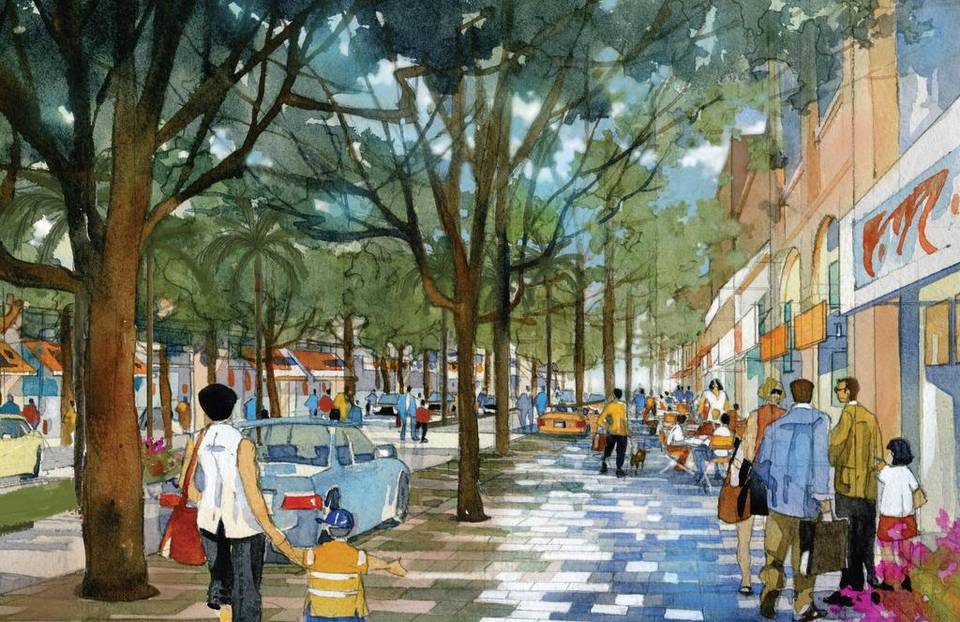 If you read the real estate coverage of the Miami Herald with any regularity, you have probably taken note of the big development plans on the horizon for the historically quiet suburb of Coral Gables.
Among the 16 proposed and approved new, high-density projects announced for the highly desirable enclave are the Mediterranean Village at Ponce Circle, a million square feet of hotel, condos and shopping across 6.7 acres south of the Mile on Ponce de Leon Boulevard; 33 Alhambra, a proposed 16-story residential tower to be built on the block behind the historic Coral Gables Elementary School; and the Collection Residences, a 10-story building with 270 luxury condos and 40,000 square feet of ground-floor retail.
This onslaught of development is unusual for the Gables, which has notoriously strict zoning laws in place to protect the look and feel of the area. (Residents who have applied for any type of reconstruction or improvement project can vouch for the detail with which the ordinances control every aspect of such work.) But the Herald reports that pressure on the city from developers results from an excess of demand for urban-style living in the Gables.
So what does this mean for the future character of Coral Gables? Well, as the Herald says, "The avalanche of high-density projects…could reshape the landscape of central Coral Gables, filling in its downtown and surrounding neighborhoods with new hotels, hundreds of condo and apartment units, and an array of office, restaurant and retail space that measures out in the hundreds of thousands of square feet."
This could potentially translate to a major population influx (and the growth of local school classrooms that comes with it) and busier traffic patterns. On the other hand, the development will boost the economy, bring more wealth to the local infrastructure, and infuse the downtown district with fresh energy. As a former Chairman of the Board of the Coral Gables Chamber of Commerce, I'm following these developments closely and am more than happy to let you know of their progress (just contact me).
Residents are divided on how to feel about these changes, and construction is already under way on several projects. There is no question that the development will impact the area's real estate scene—in many ways, for the better. If you are interested in how the new construction impacts your resale value, or if you would like to learn more about the new housing opportunities in progress, please get in touch.