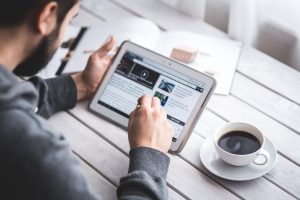 In 2018, 91 percent of home sellers used an agent to sell their home. This may come to a surprise for millenials with a Do It Yourself attitude. While it is true, technology has changed the way Americans shop for homes, that doesn't devalue the work of a full-time real estate agent. The role of realtors are shifting and the best agents are embracing the tech-driven era to market their client's homes through various online platforms. 
These agents are leveraging technology to simplify the complex, home selling process. While a For Sale By Owner can certainly get an idea on the value of their home online, this information doesn't compare to the expertise that an experienced realtor has on market trends, prices and regulations. Not to mention, the skills it takes to actually negotiate a deal. Here is why real estate agents are still valuable in the age of tech. 
A Real Estate Agent Can Save You Money
From attorneys and lenders to inspectors and landscapers, it takes a village to sell a home. You may not have the time to shop around for quotes and find the best deal. Fortunately, most agents have a network of vendors and will typically recommend the right ones at the right price- I know we do!
By Pricing Your Home Just Right
If you're selling your home, then you will need an expert agent who will guide you in choosing a strong listing price that is realistic and will draw interest from a buyer. He or she can do this by evaluating homes like yours that have recently been sold or are currently on the market. 
Think about it- why would a buyer pay more for your home when a similar house down the street is asking for less? By a conducting a comparative market analysis, a real estate agent can help you justify your asking price to a buyer. 
While you may consider using an online calculator like Zestimate on Zillow, they don't take into account important factors. Perhaps your kitchen was completely renovated or you recently replaced the roof. These factors can either increase or decrease your home 's value significantly, and a skilled agent can help you weigh out all of this data. 
Not to mention, these online calculators aren't necessarily accurate. Zillow says that 87.6 percent of its estimates are within 20 percent of the actual value. Now, that's plenty of room for error.
For a free comparative market analysis from the Drew Kern team, click here. 
Or Better Yet, Make You Money 
If you rather save money on a commission fee, think again. With assistance from an agent, you may actually make money by selling your home. While the average For Sale By Owner home sold for $208,700 last year, the average agent-assisted sale was $235,000. Now, that's a huge difference. 
When it Comes to Tech, Most Agents Are Ahead of the Game
Let's be real. A simple "For Sale" yard sign isn't going to cut it – not with today's tech-savvy buyers. From posting your listing on the Multiple Listing Service (MLS) to driving traffic to their own websites, realtors have the right tools to market your home. 
First impressions are everything. Homebuyers will typically tour your house online first before they even think about requesting to see it in person. This is why quality photos and videos are important. A good agent will hire a professional photographer to showcase your home in the best light, and market them on a network of databases.
An agent with the right following can also help you target a potential buyer through social media posts and ads. Or he or she may have an email list of potentially interested buyers. 
You also don't need to worry about keeping track of physical documents.These days, you don't need a pen to sign a listing agreement, contract or addendum. Most agents use digital tools like Form Simplicity to electronically sign documents and track your transaction. This is because they understand the importance of leveraging technology, and use only the best tools to enhance their work while easing yours.