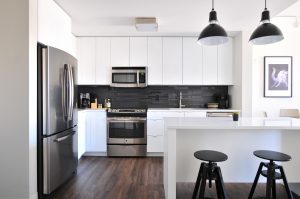 Kitchens are the heart of a home. It's where families gather for meal times and where celebrations are typically held. And if you do any entertaining, you know that everyone ends up in the kitchen no matter what.
When you're staging your home for a sale, help potential buyers visualize themselves in your beautiful kitchen. You want to show off a fresh, clean, and spacious area. They will create an emotional attachment to your home — and, hopefully make an offer.
To get your kitchen ready and looking its best for a showing, use these 10 staging tips:
Get the kitchen professionally cleaned.
Obviously, you want an immaculately clean kitchen to show off. A worthwhile investment is to hire a professional cleaner. Professionals will make it look spotless and sparkling for your showing.
And once you have the pros come in, it's much easier to maintain that immaculate condition.
Be 

vigilant about 

odors.
No one wants to walk into a smelly kitchen, and this can certainly turn off potential buyers. Before the showing, remove any trash, recycling, or pet items. A good odor-eliminating tip is to put a lemon down your garbage disposal. 
Consider a new paint job 

and

 other minor 

repairs

.
Adding a fresh coat of paint is time consuming, but it is a relatively inexpensive way to spruce up the space. If you've recently painted, make any needed touch-ups. Also, make sure you don't have any leaky faucets and that everything else is in working order. 
Avoid cluttered

 countertops.
Besides a toaster and a coffee pot, try to clear off any other appliances or unnecessary items from your countertops. Too much stuff on the counters makes the kitchen look smaller than it actually is.
Accessorize the visible spaces.
While you don't want a cluttered appearance, a few well-placed accessories will cozy up your kitchen. For example, add some nice-looking hand and dish soaps, place a cute kettle on the stovetop, or incorporate colorful tea towels. 
Set out fresh fruit.
Display some colorful fresh fruit in a stylish bowl or plate. This adds a fresh touch to the space and gives the room a healthy glow. Added bonus if it comes from your own fruit trees or garden! 
Add some greenery.
Cut flowers or potted herbs add lifelike cheer to the kitchen. Any type of greenery boosts the kitchen's appeal. To make things simple, cut some flowers from your garden and place them in a simple vase or jar.
Display your beautiful cookbooks.
Putting some of your best cookbooks on display makes the kitchen look useful and homey. Adding these accessories can help potential buyers think about future meals and memories that they can create in the space. 
Organize cabinets, drawers, and the pantry.
A great staging tip is to generally de-clutter everything. People will look in your cabinets and open your drawers. If they are overstuffed, it gives the impression that your kitchen lacks storage space. So, get rid of any excess. Also, remove mismatched dishes and other items that take away from a clean look. 
Make everything look realistic.
Staging your kitchen for a potential sale means that it probably won't look as it normally does. However, keep in mind that your goal is to make it look appealing to buyers and help your home sell faster. So, you want to put forth the best impression possible.
If you're planning to put your home on the market, give us a call at 305-329-7744. We can help you with all aspects of the sale, including staging your home to attract the best buyers so that it sells quickly.