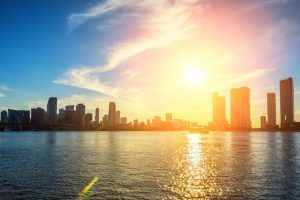 A new year is always an exciting time. In 2017, we will likely see some new trends and few continue in South Florida real estate.
Forecasters have shared their insights into the market and made some predictions for 2017. Here's what could be in store for the coming year.
South Florida Real Estate Forecast
After a surge in prices from 2012 through 2015, South Florida has tapered back its growth recently, and was recently ranked among the slowest-growing metro areas in Realtor.com's 2017 national housing forecast. However, there is some good news, as experts predict the market is likely to perform better than in 2016.
And while South Florida had a lowly ranking coming in at No. 71, the rankings were pretty tight with a marginal difference in growth and price gains as compared to the top ten markets. While South Florida had a sales volume increase of 4.17% and price increases of 3.98% , the report forecasted the growth and price gains in its top 10 markets at 6.3% sales growth and a 5.8% price gain. Those top markets include Phoenix, Los Angeles, and Boston in the top three spots. Florida cities in the top 10 include Jacksonville at No. 6 and Orlando at No. 7.
Nationally, Realtor.com predicts housing prices to increase 3.9% and existing home sales to grow 1.9%, while the overall real estate market will be slower than in the previous two years.
But, there are a few trends ahead that could impact the market.
Trend: Millennials and Baby Boomers in the Market
In the past year, homebuyers age 35 and under made up about 30% of the home purchases in South Florida.  While this is slightly lower than the national average, millennials, along with baby boomers, will continue to make up the strongest group of homebuyers.
Millions of baby boomers are retiring each year, and many look to purchase a second home in South Florida or move to the area permanently. This trend will continue into 2017.
Trend: International Investors
South Florida has consistently been an attractive locale for international homebuyers. Many of these buyers are from Latin America and Europe, and they seek out South Florida for a variety of reasons. The number of buyers from Asia, particularly those from China, are also becoming major players in South Florida real estate, and the trend is expected to continue.
Many see South Florida real estate as a sound investment, which is part of the reason why we've seen Miami's skyline from Brickell to Midtown boom in the last twenty years.
And it feels like it has been a yearly occurrence that someone will declare that the international buyer's boom is finally come to an end. And with it, we see a surge in interest from a new part of the world.
It may be that they'll finally be right in 2017, or they could be wrong and try and predict it again in 2018. But one thing that is important to remember is that Miami's real estate market does not move in lockstep; even if prices drop on the Beach or in Edgewater, it doesn't mean that single-family homes in Pinecrest will be affected at all.
We're gearing up for a busy 2017. If you're in the market for a new home or thinking about selling your home, give us a call at 305-329-7744. We'd love to give you a neighborhood by neighborhood assessment.