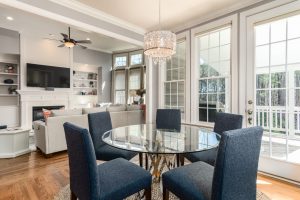 Unless you're unusually lucky and the very first house you see ends up being "the one," you're going to be spending a fair amount of time with your real estate agent as you search for potential properties. And even if you do decide to go it alone during some of your house hunt, you're going to want an experienced professional by your side when it comes time to negotiating and closing the deal.
While there are a lot of skills and experiences that will make a realtor qualified to work with you, a big part of finding the right fit comes down to just that – fit. As you assess potential buyer's agents, it's important to keep in mind things like their experience, professional reputation, and specialties, but also how their personality and strengths will mesh with yours and your priorities.
As you interview potential realtors, be sure you hone in on these three important questions before making the choice to hire them for your house hunt.
What's your experience with the local market?
Whether you're moving across the block or across the country, you need a local realtor who knows the market inside and out. Some realtors prefer to specialize in a certain market or neighborhood. Ask about this as well as their professional experience more broadly.
How many clients are you currently working with?
Some realtors work part time or are so busy that it can be difficult to reach them when you really need to. Understand their availability and if they work on a team or go solo. It may be helpful if the agent is part of a team, as someone else from the team can step in if something urgent comes up.
What is the biggest piece of advice you give homebuyers on their home-buying journey?
Regardless if it's your first home or you're a seasoned homeowner, each purchase is unique. The market changes, your needs change, there are other new variables at play. Your realtor is there to help coach you through the process, act as an intermediary when necessary, and support you in finding the right home that meets your goals. For realtors who have been in the business for a while, they know what it takes to help get buyers from their dreams to reality. How does the realtor you're interviewing offer tips and guidance for making that happen? His or her insight might also give you an indication of the kind of fit you're looking for.
The agent you hire should be there to represent you with the right experience, skills, and fit to meet your needs. If you have questions about the South Florida market or are looking for an experience realtor, get in touch with us at 305-329-7744.