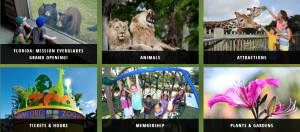 Sparkling twinkle lights are everywhere during the holidays, and that's what makes the season so magical, dazzling kids and adults alike.
South Florida offers many enchanting holiday lights displays. Here are six not to miss:
Santa's Enchanted Forest
Celebrating its 34th year, Santa's Enchanted Forest has been a South Florida holiday tradition for generations. It bills itself as the "world's largest holiday theme park and free carnival" and features a 92-foot Christmas tree, hundreds of rides for all ages, and millions of dazzling holiday lights. There is also holiday music, displays, and lots of food.
The park is open daily from November 3 to January 8, 2017 from 5 p.m. to midnight, including on the holidays.
Miami Lantern Light Festival
The Lantern Light Festival is a six-week celebration of Chinese culture featuring giant lantern displays, lights, acrobats, fireworks, authentic Chinese food, and lots more. The lantern festival is one of China's most important celebrations and is a 2,000-year-old tradition.
This event at the Miami-Dade County Fair Expo Center will showcase huge custom-built lanterns — some are 30 feet high, others are 300 feet long. The festival is November 30 to January 8.
Zoo Lights and Gifts for the Animals
Zoo Miami's annual holiday lights display is not to be missed. The whole park is transformed into a sparkling wonderland with animal-shaped lights displays and lights covering trees. The zoo also offers opportunities to bring presents for the animals. And, there are many other holiday events, like dinner with Santa and mini holiday camps.
Details about the 2016 can be found here.
Winterfest Boat Parade
This is the 45th anniversary of the Winterfest Boat Parade, which starts in downtown Fort Lauderdale and travels east on the New River and north on the Intercostal to Lake Santa Barbara in Pompano Beach. The 12-mile parade of boats decked out in holiday lights is December 10 at 6:30 p.m. This year's grand marshal is rapper Pitbull.
The Christmas Castle
Miami's Christmas Castle  is an animated holiday lights display synched to some of the most popular holiday tunes. The castle is 40 feet high and alone has more than 50,000 lights. The Christmas Castle is open nightly December 9-30.
Neighborhood Displays
To keep it local, explore the lights displays of your very own neighborhood. Whether it's Coral Gables, Pinecrest, Palmetto Bay, or Cutler Bay, your neighbors will most likely have some impressive holiday lights. Load up your family in the car with some hot chocolate and get ready to ooh and aah.
Exploring the many holiday lights displays in South Florida is a magical way to celebrate the most wonderful time of the year. Everyone will enjoy it, and you can even start a holiday tradition.