There's something about the Old Spanish homes in Miami that is so unique and special.
Maybe it's because of the history; these homes were built in the 1930s. And the fine attention to detail which truly makes these homes extraordinary.
From the moment you step in this home, located at 2013 SW 23 Street in "New" Shenandoah,  you are transported back in time to Old Miami. Every entrance has gorgeous wrought iron gates. Once inside you are instantly greeted by high ceilings, beautiful crown molding and a perfect focal point, a white stone fireplace. There is a side entry/vestibule now used as a small library with vintage cuban tile and built in bookshelves.
From there you have access to a covered carport, which now has been enclosed from the street, and is the perfect outdoor covered dining area.  Even the antique light fixtures and original wood doors with ornate hardware remain that really maintain the integrity of the home as it was intended.
The main home consists of roughly 1,573 sq feet, 3 bedrooms, 2 baths. Original wood floors. Living room, formal dining room and breakfast nook.  The bathrooms have been tastefully remodeled. There is also an inside laundry room off the kitchen, which is clean and tidy and ready for updates if desired.
Behind the home, there is a quaint and cozy cottage with 1 bedroom, 1 bath, full kitchen and living area. A side entry from the street would easily allow a tenant access to the cottage. Or it would be a perfect office or in-laws quarters. The surrounding yard amplifies the allure of this home, with several beautiful courtyards, tropical landscape and stone pathway.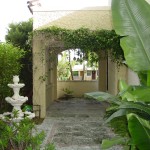 This home is a short sale, but the seller has chosen a reputable title company with short sale experience that will handle the process on both the buyer and seller's behalf.
Contact me for more information about this home or other homes in the Miami area.