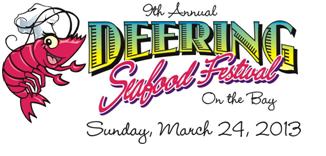 Sunday, March 24, 2013, The Deering Estate Foundation is throwing the 9th Annual Deering Seafood Festival on the Bay! Chosen as one of Florida's Top Ten Food Festivals by BizBash Media, this is one event you definitely don't want to miss out on. From 10:00 A.M. until 6:00 P.M., come enjoy seafood of all kinds, plus burgers and wings, live entertainment, and cooking demonstrations by celebrity chefs. Pontoon boat rides are available, and for the youngsters, a Kids Zone complete with inflatables and kid-friendly food.
Advance Prices: $15.00 for adults and $5.00 for ages 4-14
Event Day Prices: $25.00 adults $5.00 for ages 4-14
Children under 4 are free!
For more information, please click here.
*Photo Compliments of The Deering Estate