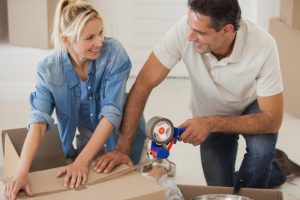 If you're like most people, you've probably accumulated a mass amount of stuff over the years. So, when it's time to move, just thinking about transporting it all might bring on a panic attack.
Moving is the best time to do a major clean-out of closets, drawers, and your entire space. The more you can purge, the better you'll feel. Downsizing makes the move a lot easier, but it's also freeing.
Think About Your New Space
Are you moving to a bigger or smaller place? Keep this in mind as you consider what to take. Consider what will fit and what style you're going for, and get rid of what won't fit or work in your new space. Think about what you really need and want. While you can put things in storage, it's an added expense, and if you can live without the things you're storing, you probably don't need them anyway.
Clean Out with a Discerning Eye
Clients that I've seen do a spectacular job of this start by first packing the things they use every day (this also helps on the unpacking side so you prioritize which boxes need to be opened the minute they get to your new home). Then they pack the things they use often, but not every day. After that, they're left with the stuff they're not sure they want to keep.
Closets, cabinets, and drawers are junk magnets, so start taking your every day items out of there first. Go through everything carefully and only keep what you actually need and use, and maybe things that truly have sentimental value. When it comes to clothing, if you haven't worn it in six months, donate or get rid of it. Old electronics and anything broken also need to be purged. Don't keep duplicates of items—choose your favorites and get rid of the rest.
Sort It All Out
Go through every room of your house and sort every item you see into three categories: keep, donate, and toss. If something doesn't make you happy or isn't regularly useful to you, donate or toss it. Once you have these three piles together, deal with them immediately. You might be tempted to move these items if they sit around for too long.
If you need help going through everything, we know moving consultants whose job it is to help you through this process and would be happy to make an introduction. And if you are ready to put your house on the market or are looking for your dream house, let us help. At Drew Kern Real Estate, we are experts in Miami's real estate market. Give us a call at 305-329-7744 and we'll help you through the next steps.