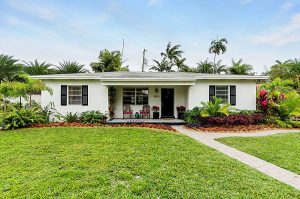 Getting top dollar in the least amount of time is my number one priority when I list a property for sale. In order to achieve this, however, I can't stress enough how important it is for the homeowner to get the property in the best possible condition prior to it hitting the market. A month or so ago, I wrote about some big-ticket items that are often overlooked but that deserve a homeowner's consideration before listing. (In case you missed it, you can still catch my blog "To Fix or Not to Fix Before Listing?" )
The reality is that homes with great curb appeal, that are clean and well-maintained, sell more quickly and for a higher amount. Here's a quick checklist to run through as you prepare to list your home. And, as you consider whether to put your home on the market, set up a consultation with me, potentially even six to nine months before you plan to list your home for sale. That way I can review your property and provide a personalized assessment.
Tend to Curb Appeal
Give your lawn a once-over before listing. Trim shrubbery, remove or replace dead or dying trees and plants. And, by all means, make sure that your landscaper regularly maintains your lawn while your home is on the market. Keeping the driveway and walkways swept clean helps as well.
Keep your entrance clean and touch up any peeling paint. Also consider dressing up the front doorway with a potted plant, new doormat or an attractive wreath.
If your windows are noticeably dirty, take the time to give them a good cleaning. When you open up your home to potential buyers, having them open up the blinds to see grime is not a selling point.
Garage
While many of us consider a garage to be the perfect onsite storage facility, potential buyers appreciate looking into a neat, organized garage where a car or two can fit. So, if you're a packrat, it's time to get rid of all the junk you don't really need that's taking up space. You certainly don't want to pay to move this stuff! But if you can't part with it, consider renting a storage unit while your home's for sale.
Clean the walls, shelves and floor, and repaint where necessary.
If your garage door squeaks, put some WD40 on it.
Kitchen
Even the largest kitchens look cluttered when countertops are littered with appliances, papers, knick knacks and dinnerware. What you can't live without, find a cabinet and tuck it away. Non-essentials need to go.
Bathrooms
Thoroughly clean mirrors and fixtures and fix any leaky faucets.
Replace older shower curtains and bathroom rugs with something new.
Eliminate any and all mold and mildew.
Closets
As difficult as it may be, it's important to clean out and organize your closets prior to listing. Equally important is keeping them organized and clean while your home is on the market. Trust me, even large closets look small if stuffed to overflowing with clothing, shoes and accessories. And when a prospective buyer opens a closet door and finds a cluttered mess, it does not leave a positive impression.
Other maintenance
Make sure your AC is clean and filters changed regularly.
Be sure to fix areas needing a little TLC, commonly the fascia or soffit start to rot so replacement of that wood and paint will be needed.
My real estate mantra is to help my clients sell their home quickly, for the most money possible. However I also pride myself on advising my clients not to spend money where it won't benefit their pocket book. This checklist is really an overview, but as I said, an in-person consultation prior to listing your home, is really the best way to make sure it's ready to sell, at top dollar! And to make sure you don't spend money unnecessarily. I look forward to meeting with you at your home.
Contact me here with any questions you may have, or to arrange for a complimentary analysis of your home.