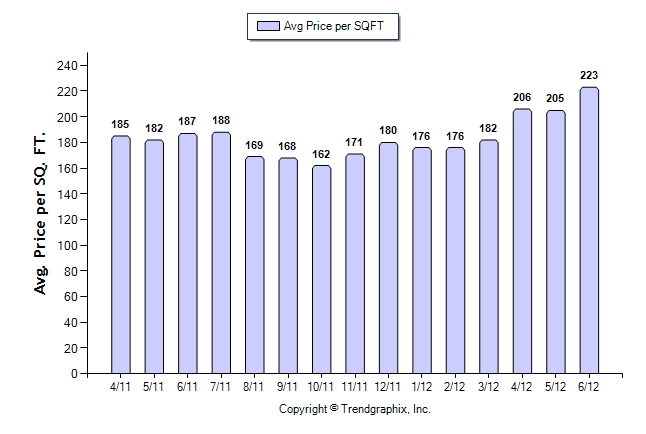 I am always trying to keep my readers and clients updated on the latest trends in our real estate market.  Interested in some important facts?
In the chart above, you will see that the average price per square foot in Miami-Dade County is the highest it has been in the last 12 months. 
The average price per square foot in Miami Dade-County has increased 19.6 % in the last 12 months. Of that, average prices in Dade-County have increased 9.1 % in just the last month!
There has been a 28 % decrease in inventory in the last 12 months in Miami-Dade County. With only 5 months of inventory, as I predicted, we have been moving in to a seller's market.
The median priced homes in Miami-Dade County now match the median income. This is the time to buy in Miami!  With the low inventory, we are seeing an increase in home prices, and I suspect we will continue to see an increase.
We have sold 6 homes in the last 10 days, and already scheduled 14 deals to close between July and August; we are loving all of the activity!
If you aren't happy with your real estate results, if it's not the market, it might be your method. Call us for a complimentary analysis of your home.
Drew Kern
EWM Realtors
Chairman of the Coral Gables Chamber of Commerce
*This is for Miami-Dade County as a whole. This is not neighborhood specific.*