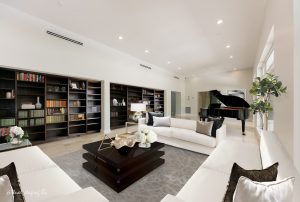 When you're selling your home, you want to get the best price possible. And, the best way to get top dollar is to put your home's best foot forward to attract buyers. Often, this means hiring a professional home stager.
Many sellers may not want the extra expense of home staging, but it's actually a worthwhile investment. Sellers that hire a home stager can often expect to get at least $10,000 more for their homes than those who don't.
In addition to a larger sales price, there are several other reasons why you should consider hiring a professional home stager.
Buyers Can Visualize Themselves at Home

Professional home staging shows off a property in its best light, which is a big help to buyers because it can reduce the time they spend searching for a home. Most buyers have trouble visualizing and appreciating a space's true potential when they have to ignore clutter, oddly arranged furniture, or décor that's not their style. The same is true for a completely empty space—the emptiness can be overwhelming. Staging eliminates all the guesswork.

Your Home Will Look Great Online
These days, practically everyone begins their home search online. So, the more eye-catching your home looks online, the more attention it will get. A great first impression can make all the difference in getting buyers through your front door.
It Shows Off a Home's Best Assets
Professional home stagers are experts in design and décor, so they know how to accentuate your home's best qualities. When a home's important details are highlighted, buyers will definitely notice. Plus, home stagers have an endless supply of stylish furniture and accessories that can be used to show off your home.
Stagers Aren't Emotionally Invested
Most homeowners have an emotional attachment to their homes, understandably. But, this means you often don't see it as clearly as outsiders. Home stagers offer a fresh set of eyes and a goal to help you sell. Home staging is all about business, and, though it may be difficult, sellers shouldn't take offense to a stager's critique or décor suggestions. They want what's best for you.
Professionally staged homes spend 90% less time on the market. When your home sells quickly, it can save you a lot of cash—especially when you consider that the longer your home sits on the market, the longer you'll be paying your mortgage, taxes, utilities, and other expenses.
If you're ready to sell your home, let Drew Kern Real Estate list it. We know how to show off your home's best features and can help you get the best price possible. Give us a call at 305-329-7744.