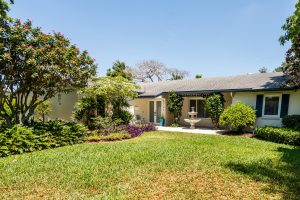 Summer is the perfect time to tackle some home maintenance projects. The days are longer and the kids are out of school, so they can do a lot of the work.
All homeowners should take care of their homes by performing ongoing maintenance and repair. This will keep it in good condition so you can get the best price possible when you decide to sell it. Here's a list of a few projects to take care of during the summer.
Tune Up the Air Conditioner
No one in South Florida wants their air conditioning to go out or not work properly during the summer (feel free to insert a, 'Your wife is hot,' joke here). So, your No. 1 priority when things start to heat up is to get your AC unit tuned up by a professional. This usually involves checking refrigerant levels, cleaning coils, and examining wiring to make sure that the unit is functioning well so that you stay cool and your summer energy bills aren't too high. Throughout the year, you should also change out your air filters monthly.
Check Your Roof
Roofs should be inspected every few years (and more frequently if your roof is approaching 20 years old) to ensure that no problems exist. It will also help you identify small problems before they become larger ones. And, depending on the type of roof you have, you should also clean it annually to keep it in top shape. All homeowners should also clean their gutters regularly, should you have any, at least twice a year. It can prevent clogging and leaks, and keep other maintenance problems from arising.
Clean the Exterior
To keep your home's exterior in great shape, routinely clean it. The easiest thing to do is to pressure wash it. This removes dirt, stains, and mildew. And, it's an essential first step if you're planning to paint. Just be sure to cover any windows, doors, and electrical outlets beforehand.
Get Your Landscaping Under Control
Even the greenest thumbs can dread doing yardwork over the Summer. The catch is that, with the heat and the rain, your yard can quickly overgrow. If you're not ready to take on your jungle out back, consider hiring a professional (I would be more than happy to make some recommendations, just contact me) to keep everything in its place.
If you're thinking about putting your house on the market, give us a call. At Drew Kern Real Estate, we know what buyers are looking for and can help get your home sale ready. Call us today at 305-329-7744.