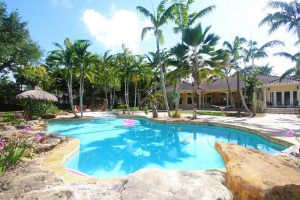 It's officially hurricane season, and that means that we're not bragging about our weather anymore to our friends up north.
This being said, it's one of our busiest times of the year, because there are still many potential buyers are hoping to move into their new home before school starts.
But, house hunting in the heat and humidity can be grueling. Getting in and out of the air-conditioned car can take a toll. These tips will help you survive South Florida's heat as you search for your dream home.
1. Schedule Viewings During the Cooler Hours
Mornings are at least a little bit cooler than the rest of the day, so try to schedule viewings then. Since summer brings longer daylight hours, late evenings are also a great time to house hunt—plus, you'll get to see what the property looks like at sunset.
2. Plan Your Route Strategically
Talk to your realtor about the homes you want to view, and they can map out a strategic plan to see the ones that are close together on the same trip. This will keep you from driving all over town and lessen the time you spend in the heat.
3. Carry a Fan
A hand fan is a great provision to carry with you on your house-hunting rounds. Or, invest in a small battery-powered one to carry with you. While it's no substitute for air conditioning, it will cool you off at least a little as you check out the backyard.
4. Stay Hydrated
Drink lots of water before you head out, and carry some with you so that you stay hydrated during your hunt. Water is good for your health, and you obviously don't want to overheat or get dehydrated. You don't want to be dealing with dizziness, headaches and fatigue when you're looking for your next home.
5. Keep the Rest of the Year in Mind
While it can be hard to overlook the heat and humidity in the summer, it isn't balmy year-round. And just like the weather changes, so do lots of things like traffic patterns.
Make sure to ask your realtor about nearby schools and how they can back-up traffic during the school year. You might think you found the perfect home, but then discovered that it's wedged between two schools and the only way in or out comes with navigating between parents jockeying for position.
Don't let South Florida's heat keep you away from your house hunt. Drew Kern Real Estate can guide you through. Give us a call at 305-329-7744 if you're looking for a home.