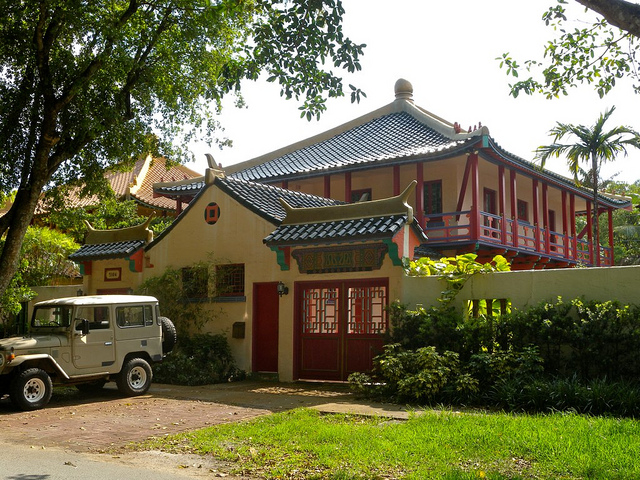 Of the themed villages scattered throughout Coral Gables, the Chinese Village is truly an architectural departure from the surrounding Miami area. Envisioned by planner George Merrick and designed by architect Henry Killam Murphy, this colorful period-revival subdivision was constructed between 1926 and 1927. (For more on these themed villages, check out my previous posts on the Florida Pioneer Village, the Italian Village, and the French City Village) The Chinese enclave is located immediately south of U.S. 1 and includes 5125, 5129, 5133 and 5100 Riviera Drive; 5104, 5108 and 5112 Maggiore Street; and 534 Avenue Mendez.
Murphy, a Yale alum who designed several educational buildings in China and was a proponent of adapting traditional Chinese architectural styles to modern uses, was the perfect choice to create the eight properties of the Chinese Village. He drew inspiration from the decades he spent traveling to China and other parts of the Far East and studying Orientalism, and his deep understanding of the culture is evident in his careful details and Asian symbolism.
Some of the most easily identifiable Oriental influences are the houses' bright, primary-colored roofs and decorative motifs. A ten-foot wall links the properties together, communal-style, featuring vibrantly painted ornamental gates in between each home, which you can see as you drive through the village. Some properties are smaller, resembling pagoda-style buildings, while others are larger, reflecting Chinese temples or palaces. You'll notice traditional ceramic foo dogs along the pronounced roof ridges, raised entrance courtyards, elaborately carved sculptures in the gardens, and circular "moon" windows and gates.
One Chinese Village property that was recently on the market was 5125 Riviera Drive, which sold in 2013. You can take a peek inside here. To explore the Chinese Village of Coral Gables further, or if you are interested in purchasing a property in any of Merrick's villages, I would be happy to tour the neighborhoods with you. Contact me to talk about the current market.