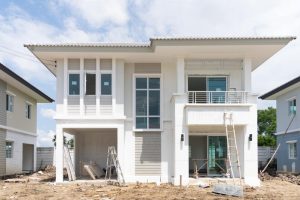 As a renter, you live by your landlord's set of rules, and you won't see a return on your investment of all those rent checks you've sent over the years. When you're ready for a little more freedom in your living space and the chance to build some equity, it's time to consider buying a home.
Buying a home is an important financial milestone for most adults. If you've been thinking about making the big step from renting to buying, consider these five signs that it's time to buy:
You want more control over your environment. 
Do you constantly think about knocking down a wall to make your bedroom bigger, adding a swimming pool, or converting your garage into a man cave? If the answer is yes, you probably need more control over your living space. As a homeowner, you'll live by your own rules.
Landlords usually restrict remodeling, but some even keep renters from painting or hanging art on the walls. When you buy your own home, you're free to make any structural or design changes to your home that you wish.
You're ready for the commitment.
Buying a home is a big commitment. You're committing to staying in the same place for a while. Maybe you've found your dream job or want to live in a certain school district. Making that location commitment is the strongest sign that you should buy a house.
Homeowners also commit to the responsibility of owning a home, including repairs, maintenance, taxes, and paying the mortgage. To fully cover these costs, you will likely need to live in the home for several years to make it worthwhile.
You have the money. 
Buying a home isn't cheap. But sometimes, it's actually cheaper to buy than rent. In Miami-Dade County, owning your own home is 43% cheaper than renting.
Buying a home does require a down payment that can range from 3.5% to 20%. If you have the down payment readily available, it's a sign that it's a good time to buy a home. Putting a large lump of cash towards real estate is a great investment, and an opportunity to build equity and see a return on your investment.
Your family dynamic changes. 
Any change in your family dynamic may mean you may need more or less space. If you're having children, you may need some extra bedrooms. If you're an empty-nester, you may be ready to downsize.
You find a great deal. 
The bottom line is that the housing market in South Florida is competitive. If you find a great deal on a home that meets your needs and is in your price range, it could be a telltale sign that it's time to buy.
If you've been paying rent for too long and want a place to call your own, we can help. We are local real estate experts who will help you find your dream home. Give us a call at 305-329-7744.