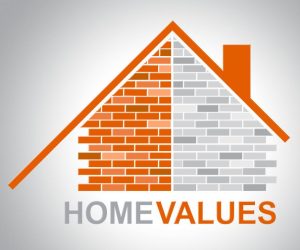 When you're trying to put a price tag on your home, determining its value is a given. But, what is value exactly?
Two types of "value" will come up in the conversation around selling your home: assessed value and market value. They may seem similar but the numbers can be different, and they're used in distinct ways. Understanding the two will give you an advantage as you sell your home.
What Is Market Value?
Market value refers to the likely price that a property will sell for, or what a buyer is willing to pay for. Market value can be based on many factors, like location and exterior and interior aspects, including lot size, condition of the home, energy efficiency, and other characteristics. Comparables listing what similar homes in the area sold for also impacts market value. Then, there's supply and demand.
Often, people start by looking at their Zestimate™ online, but there are multiple reasons why it is often off by 10% or more (you can read about that here).
In the end, there are multiple factors that need to be weighed in determining your market value; there isn't really a right or wrong answer. What matters is the price that the buyer and seller agree on to close the deal.
What Is Assessed Value?
Understanding the assessed value starts with knowing who is performing the assessment and why. Municipalities employ assessors to put a value on a home to calculate property taxes. Mortgage companies also rely on assessed values when finalizing a loan.
Assessors look at what similar properties are selling for, the value of improvements, replacement costs, and more. The higher your home's assessed value, the higher your taxes.
Homebuyers can also hire their own independent assessors to obtain a value. Their assessed value will not impact your tax rate, but it could give you some leverage during the negotiation process.
How This All Affects You
Buyers and sellers usually focus more on market value as it's the end result. Market value may fluctuate based on local markets, but assessed values remain more fixed. If the assessed value isn't as high as you think it should be, don't worry too much.
Assessed value is public and part of property records, so it may come up in negotiations. Having an experienced realtor on your side often makes the difference between keeping the deal on track and having it fall through.
If you are ready to put your house on the market or are looking for your dream house, let us help. At Drew Kern Real Estate, we are experts in the South Florida market. Give us a call at 305-329-7744 and come meet us.